Amstel's new Bridges on Bridges campaign unites the off and on trade to share advice on how to capitalise on summer sales and the best way to attract affluent young shoppers.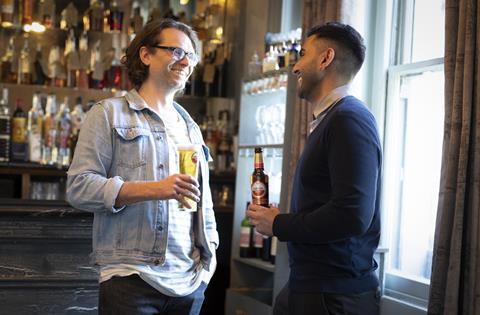 With retailers and publicans sharing so much in common, but rarely uniting to share knowledge, Amstel has brought together business owners from both worlds to chat through their experiences and share advice over a cold Amstel. Amrit Dougall, owner of Millennium View in Coventry – a Nisa flagship store - and Chris Slater, licensee of the newly opened The Rose & Monkey Hotel – a live music bar in Manchester - came together to talk.
Q. What's the best way of making the in-store/outlet experience as enjoyable as possible for customers to ensure repeat purchase?
Amrit: In our experience, the presentation of the store is crucial to ensuring repeat custom. Millennium View is a brand-new store which opened in Coventry city centre in March 2019 below purpose-built student accommodation. We toured the country to source the best possible design for the store. We've gone for a contemporary look, with subtle lighting and copper shelving, which differentiates us from our competitors, meaning that store performance has got off to a flying start!
Chris: I completely agree that presentation is key. Creating an environment that provides a unique and memorable experience that consumers can't get at home is crucial. Like Amrit, we ensure that the bar presentation is top notch which includes having clean, shining founts and taps as well as using branded glassware.
Armit: I think we'll both agree, though, that it's not just about presentation. Customer service is paramount - whether that's assisting with an enquiry about a particular product, or helping a customer find their way around store - the added extras really make a difference.
Chris: Yes, going the extra mile is at the heart of what we do at The Rose & Monkey. We're always looking for ways in which we can attract customers at different times of the day or give them something extra - we have actually started up a travel book shop during the day which gets customers through the doors during the quieter periods.
Q. What do you find are the biggest opportunities and barriers for attracting consumers?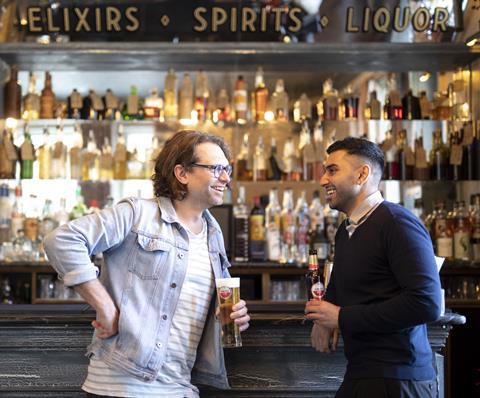 Chris: Developing your own unique point of interest keeps customers coming back for more. At the Rose & Monkey, we try to do things a bit differently; for instance, we have plenty of classic ale and great beers on the bar which are usually associated with a traditional boozer, but we then pair them with edgy live music nights which is a great combination.
Amrit: Chris is right that having a unique selling point and understanding what your customers are looking for is key. Our stores are located in student areas, so we're always aware of that and range accordingly, ensuring we have strong core options such as Foster's and Strongbow, as well as the trade up options of Amstel and Old Mout. Competing with supermarkets is obviously a challenge, but if you have a clear unique selling point, which we do, then you succeed in attracting customers through that point of difference.
Chris: Yes, competition is definitely tough, particularly for the 'leisure pound'. Other factors, such as the weather and time of year, also have an impact. However, we manage to succeed with the unique environment we create for our customers. Simple touches, such as recognising regulars, or serving a customer's usual without them asking for it, can make a big difference in encouraging repeat purchase.
Q. What's the most effective way of merchandising around seasonal moments and reminding consumers about seasonal events?
Chris: Leveraging seasonal events is a great way of maximising on sales. During the summer, we'll show festivals on the screens in the bar, which works well with our live music scene, and is a great way of encouraging younger customers. Point of sale, as well as sharing updates on our social media, are good tools for promoting these occasions.
Amrit: Strong point of sale is definitely a great way of reminding customers to stock up. We also attract shopper attention with a seasonal bay where we position BBQ items which we merchandise alongside Amstel, for instance, creating a strong food and drink pairing for shoppers and also encouraging them to make impromptu purchases. It's interesting that Chris mentions festivals as, given our location in a student area, it could be a good one to explore merchandising around!
Q. Sometimes it can be hard to appeal to the younger generation – what's the best way to attract consumers of different ages?
Amrit: We know that younger customers love events - the way we bring that to life in store is through sampling. Generally, younger shoppers are open to trying something different and are always keen to be up to date with the latest trends, so, giving them a taste of new products through sampling works well for us.
Chris: Amrit is absolutely right – events are key for the younger generation. We do a lot of live music events where local bands do a complete takeover and curate the whole day which are always very popular. Word of mouth and recommendations also play a huge role. Being positioned as an undiscovered gem that people want to find out more about is a key driving factor, particularly with the younger generation who always want to be in the know.
Amrit: Absolutely - word of mouth is essential, particularly with younger consumers who are always looking for recommendations from friends. We do a lot on social media in terms of reaching out to younger shoppers and reminding them of our opening hours, promotions and new products, as well as cementing our position as their go-to store in the area. We are also looking to liaise with the student union in September to promote a 5% student discount in store which will cover all products, bar tobacco and spirits.
Q. Which brands do you find are the most popular with younger consumers?
Amrit: We generally find that brands with a clear point of difference are popular with younger customers. For instance, Red Stripe with its affiliation with music always does well with our younger shoppers.
Chris: It's a very similar story for us – our younger customers are interested in trying new brands which they feel are aligned to their lifestyle. Red Stripe also does well for us, particularly as we have it on draught. Craft brands, such as Lagunitas are also popular – they're going to be doing a takeover next month which we find works well in giving the customer that little bit extra from the brand.
Amrit: Yes – added value is certainly a key consideration when appealing to the younger generation. Brands which offer promotional items such as branded glassware tend to do well with younger shoppers.
Chris: That's certainly true, and that's why premium beers such as Amstel do so well and have broad appeal across generations - customers feel that they are getting good value for money for a great tasting product.
Q. What's the best way of encouraging consumers to trade up to more premium options?
Amrit: For us, the positioning of premium brands is key to the trade up opportunity. We have a specific bay in store for premium or new products, and we also use point of sale to raise awareness of the brand and encourage shoppers to try something different.
Chris: I agree that point of sale can definitely be a strong tool in encouraging the trade up as it draws the customer's attention and sparks their interest. Recommendation from the bar staff is also key for us in encouraging customers to try something different. Our customers trust our knowledge of the industry and are happy to experiment with options outside of their usual if suggested by one of the bar team.
Q. We all know that beer and food are a winning combination, but what's the best way of getting customers to make that link and purchase across categories?
Amrit: Cross-category merchandising has been a great success for us. We often run promotions with a specific cuisine pairing with a specific beverage. For instance, a burger with an Amstel, or an Italian dish with a Birra Moretti.
Chris: Yes, there's certainly more of an appetite for food and drink pairing, and customers have come to expect a strong food and drink offering. Similarly to Amrit, it's something we try to encourage as much as possible; Lagunitas with veggie BBQs, beer and nut pairings from our jars of homemade spiced nut mixes, and supper clubs for a select group of customers to enjoy.
Amrit: That's interesting actually, Chris - beer and nut pairings would be a great idea to explore in store. We already have a deli counter in our Millennium View store which serves hot food which customers can take away to enjoy with a pint at home. The key thing is just to raise awareness around what you're doing. Again, we find POS such as shelf-edge strips around the chiller are the best way of highlighting the pairing and encouraging shoppers to link between the two categories.
Q. How successful do you find social media in terms of attracting young affluent consumers – is this something you have tried, or are looking to try?
Amrit: As we're based in a student area, promoting our store on social media is crucial – it's a great way of reaching out to younger shoppers and communicating all the great things we are doing in store, as well as keeping them up to date with new products and promotions.
Chris: We're very similar in the respect that social media is crucial in connecting with our younger customers, particularly, as Amrit says, when it comes to events. Interestingly, though, we haven't yet used it as an opportunity to announce new brands on the bar, so it would be good to explore that in future. We're also running a membership system with a private mailing-list which makes our customers feel part of something unique and special, encouraging loyalty to the hotel.