Walkers has unveiled a new look for its most popular family snacks including Quavers, Wotsits, Monster Munch, Squares and French Fries.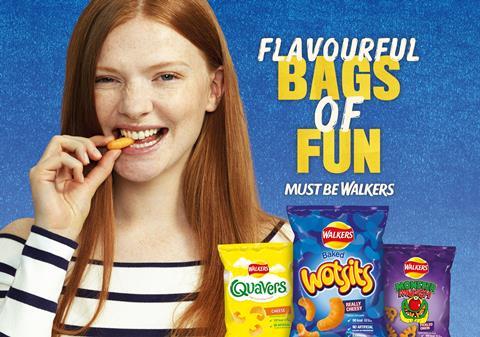 The makeover applies to all formats, encompassing singles (rrp 65p), multipacks (£1.84 / pack of six), sharing (£1 PMP) and grab bags (rrp 85p), and includes a 30% reduction on average in outer packaging across the brands' multipacks range.
The move is designed to free up shelf space for retailers and the new compact packaging can be recycled through Walkers crisp packet recycling scheme.
All the product changes are being backed by Walker's biggest ever TV campaign, as well as shopper and digital marketing. Running until mid-October, the family snacks will appear on screens nationwide for the first time in more than ten years.
The updated packs emphasise the Walkers logo and now include new calorie claims and information to help consumers make more informed buying decisions. Each multipack bag within the family range contains less than 110 calories.
Jennifer Robinson, Walkers brand manager at PepsiCo, said: "This range includes some of the biggest and best loved brands in the savoury snacks category. It's been a whopping ten years since these brands were on TV so it's fantastic to have them back in the spotlight and reaching over 95% of all adults across the campaign. Not only will the campaign drive awareness by engaging with our target audience and remind them how irresistible these brands are, but it will drive those very consumers into stores so represents a prime opportunity for retailers to cash in on sales."