Following their festive debut last year, Walkers is bringing back its Christmas dinner flavours and launching a price marked (PMP) version of its 75g Pigs in Blankets and Turkey & Stuffing crisps.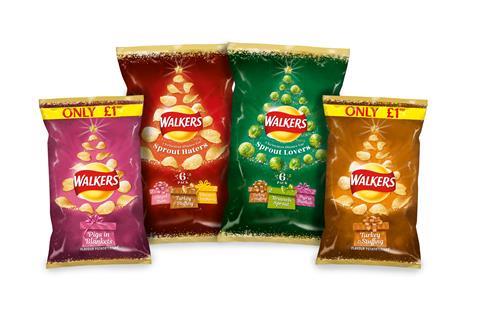 Christmas is the biggest sales opportunity of the year for the savoury snacks category, which is growing at 6.5% year on year (Salty category, Total UK sales worth £645m in Q4 2018, Larger than any other quarter as recorded by Nielsen w/e 05.01.19 excluding ROI).
Walkers is hoping to tap into this market with the return of its 2018 festive range, which includes two multipacks (rrp £1.65 / 6 x 25g) - one for sprout lovers and one for sprout haters:
· Christmas dinner for sprout

lovers

includes - Brussels Sprouts; Turkey & Stuffing; and Pigs in Blankets
· Christmas dinner for sprout

haters

includes - Glazed Ham; Turkey & Stuffing; and Cheese & Cranberry
Nick Day, brand manager at brand owner PepsiCo, commented: "The return of the Walkers Christmas flavours comes in response to the buzz and talkability generated last year, and the huge demand from consumers.
"This year, we are also excited to launch two new £1 PMPs in our most popular festive flavours. We hope to spread the festivity, and continue to invite customers to decide whether they're a #SproutLover or #SproutHater."
The limited edition festive flavours are available to order now and will be supported on TV from November.