Walkers Sensations, Doritos and Max Strong are teaming up for a new promotion designed to drive summer sales under the strapline: 'Grab Summer by the Snacks'.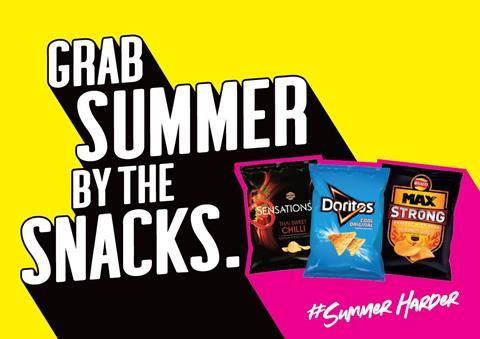 The crisp brands are being joined by 7UP Free and Pepsi Max as part of the campaign, which is live from now until 27th July.
The activity will target consumers with different messages based on their location to help drive sales for retailers. Ad messages include: "The Park Called. Bring Snacks" and "Fly. Snack. Share. Repeat".
In-store POS and stackers created for the campaign also feature interchangeable headers allowing convenience stores and independents to deliver relevant messaging based on their locale - covering a host of snacking moments from lunch on the beach, BBQs and picnics in the park, or a big night in with friends.
Tegan Philp-Hines, senior brand manager for PepsiCo (Walkers brand owner), said: "Summer is a time when occasional buyers enter the savoury snacks category [Kantar, 02/12/18]. With every one degree increase in temperature, we see a 4% uplift in salty snacks sales [Nielsen Scantrack, 2017]. This increased impulsivity is driven by the fact that, if you take into account bad weather, time you are asleep, at work, commuting or doing life admin, us Brits are left with just 82 hours to 'Grab Summer by the Snacks' (Metoffice Data, 2013 - 2018)."
The entire range of Doritos, Sensations and Max Strong flavours will be promoted throughout the campaign, in the following formats:
Sensations:
Sensations 150g – rrp £1.99 (promotional rrp - £1)
Sensations PMP 73g - £1 PMP
Doritos:
Doritos 180g – rrp £1.99 (promotional rrp - £1)
Doritos 150g – rrp £1.87
Doritos PMP 80g - £1 PMP
Walkers Max Strong:
Max Strong 150g – rrp £1.99 (promotional rrp - £1)
Max Strong 90g - rrp £1
Max Strong PMP 75g - £1 PMP
Max Strong 50g - rrp 85p
Walkers Max:
Max Paprika PMP 75g - £1 PMP
Walkers Core:
Walkers 175g - rrp £1.50 (promotional rrp - £1.00)
Walkers PMP 75g - £1 PMP