US snack brand Larabar is launching three single bars into Spar stores this month as it makes its move into on-the-go snacking.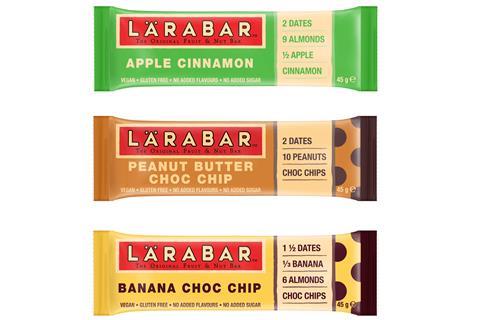 With an rrp of £1.19 each, the launch of the singles follows the roll-out of multipack Larabars which made their debut in the UK in January.
Both the singles and the multipacks come in the same flavours (Apple Cinnamon, Banana Choc Chip and Peanut Butter Choc Chip) and are 100% vegan.
As part of its strategy to engage with on-the-go consumers, the General Mills brand has also launched a sampling campaign throughout London Fashion Week and is investing in in-store advertising and nationwide sampling.
Richard Williams, business director of new ventures for General Mills Europe, said: "We are now embarking on the second phase of our growth strategy by launching a single bar format to fit into our consumers' busy lives. The convenience sector is a key focus for UK growth in order to attract the increasing number of shoppers that seek real food on-the-go."