Yogurt brand Petits Filous is set to launch its first ever no added sugar range: Petits Filous No Added Sugar, made with real fruit purée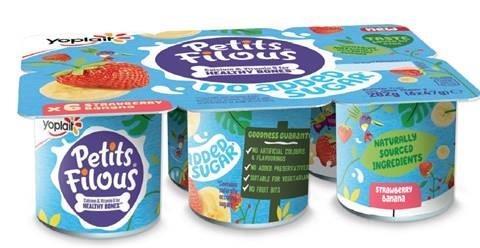 Featuring 4.9g of sugar per 100g and made with naturally sourced ingredients, the new yogurts will hit c-store shelves this October in two flavours: strawberry & banana; and apple, pear and banana (sold in packs of six x 47g).
Elisa Costa, senior brand manager for Petits Filous at General Mills, said: "We've been working hard to reduce the sugar level in our products and we're proud to be able to launch Petit Filous' first No Added Sugar range.
"With this launch, parents can be confident that their children are getting the right amount of Calcium and Vitamin D to help them grow, with less sugar.
"In our consumer taste test, kids loved the taste of the new No Added Sugar variant. They particularly loved the fruity flavours and texture of the yogurt," Costa added.
In addition to the new launch, Petits Filous is also working with Public Health England and Change4Life to remind families of the health benefits of kids' yogurt, which includes educating people about calcium and vitamin D.