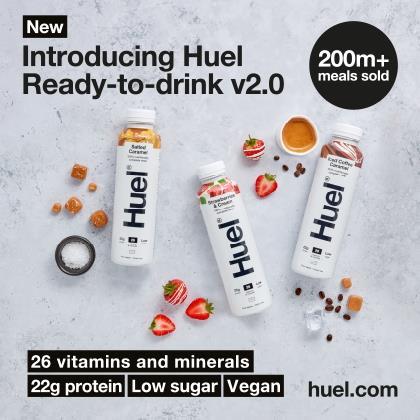 Healthy snacks wholesaler Epicurium has extended its range of Huel ready-to-drink meal solutions with the introduction of four new flavours for the independent retail trade.
The new additions are: Salted Caramel, Iced Coffee Caramel, Cinnamon Swirl, and Strawberries & Cream (rsp £3.49).
Huel is a nutritionally complete food, containing all 26 essential vitamins and minerals, protein, essential fats, carbs, and fibre in a bottle.
Michael Ratheram, customer engagement manager at Epicurium explains: "Huel is one of our best selling and among the fastest-growing brands out there. At the recent National Convenience Show, the range was arguably the one which attracted most attention".
"The concept of a health and wellbeing meal solution, in a convenient format, has shown real attraction for retailers looking to stock something highly desirable and profitable".