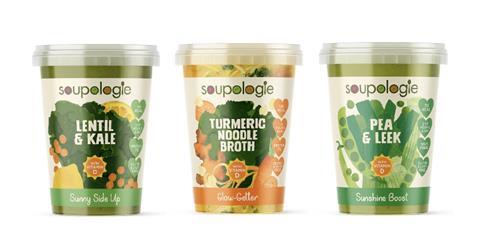 Soupologie has announced the addition of three new Vitamin D soups.
Lentil & Kale, Turmeric Noodle Broth and Pea & Leek are all fresh plant-based soups enriched with a vegan source of Vitamin D3 and provide at least 50% of the recommended daily intake in one 300g serving.
The new range will launch later this month with an rrp of £2.65. Every Soupologie product is free from the 14 main allergens and has all green front of pack 'traffic lights'.
Co-founder and head of NPD at Foodologie Amanda Argent said: "As a brand we pride ourselves in
creating healthy meals and soups that taste great. These three new products not only taste amazing but really do take the health benefits to a new level with the added benefits of the Vitamin D. It's often known as the sunshine vitamin since we make it from exposure to the sun. As we've all been stuck indoors for rather a long time now, combined with it having been winter, our exposure to the sun has been more limited than ever. Vitamin D is essential for strong bones as it helps the body use calcium from the diet.