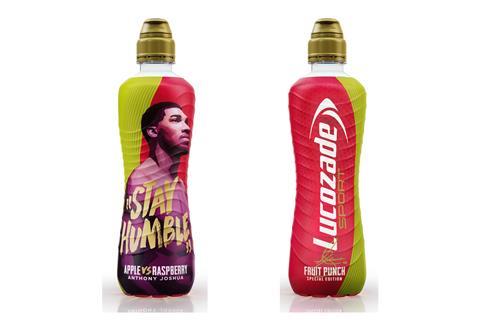 Lucozade Sport has teamed up with British boxer Anthony Joshua to launch a new special-edition variant.
Available from 4 March, the Apple & Raspberry flavoured drink comes in 500ml PET bottles in standard singles (rrp £1.35), £1 price-marked packs and a multi-pack of four (rrp £4.25).
The launch will be supported by a £5m spend across social, digital and out-of-home advertising, from March to May. The Fruit Punch packaging features a gold cap and comes emblazoned with the message 'Stay Humble', alongside an image of Joshua.
Liam Angel, senior brand manager for Lucozade Sport at Lucozade Ribena Suntory (LRS), said: "Tapping into culturally relevant sporting moments is key to growth. During the World Cup last year, Lucozade Sport grew by over +32.1% (IRI MarketPlace, GB, latest rolling 13 weeks data ending 26 Aug 2018) and this partnership with one of the most famous sporting icons in the country is undoubtedly going to drive further sales for retailers.
"Not only is Lucozade Sport and Anthony Joshua a perfect combination, but so is the pairing of a special-edition launch with an exciting new flavour variety. Our successful new launches are a testament to our experience with flavours and we know flavour extensions are great for driving sales. In 2015, the launch of Mango & Passion Fruit was worth £3.2m in wholesale alone in its first year and brought over 700,000 new shoppers into the brand (IRI MarketPlace, GB, 52 w/c data ending 23.05.16 – EXT Symbols and Independents)."