Ribena is getting ready for summer with the introduction of its new Ribena Frusion flavoured water range.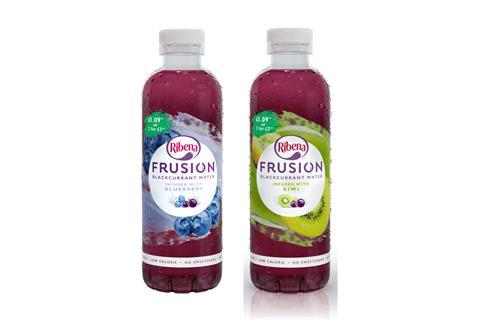 Available from 4 March, the new drinks line-up marks the first time the brand has entered the enhanced water sub-category. The products are made using blackcurrant water, naturally infused with fruit and botanicals.
Created using no sweeteners or preservatives, Ribena Frusion is aimed at young, adult consumers looking for a healthier drinks option that is low in calories and contains vitamin c.
Blanche de Gramont, senior brand manager for Ribena at Lucozade Ribena Suntory, said: "We are absolutely thrilled to be able to launch Ribena Frusion, a refreshing and unique blackcurrant water infused with real fruit and botanicals to give consumers a feel-good choice when it comes to hydration that tastes great."
The range will be supported throughout the rest of the year with a £6.2m campaign, activated on TV, out-of-home, digital, sampling, and in-store platforms. Kicking off from May, the support is designed to establish the Frusion brand ahead of the possible launch of additional fruit flavours.
De Gramont added: "The fact that we are supporting Ribena Frusion so heavily shows the focus that we're putting on Ribena in 2019 and gives retailers real belief in this launch and the wider Ribena brand."
Ribena Frusion will launch in 420ml on-the-go and 1ltr take-home bottles (rrp £1.35 and rrp £2 respectively). The smaller bottles will be available in two variants – kiwi; and blueberry – while the larger format will be sold in lemon peel; and kiwi flavours.
The 420ml bottles, made from 100% recycled plastic, will also roll-out as a £1.09 price-mark which includes a two for £2 deal, offering retailers a range of pricing option to suit their business and customers.