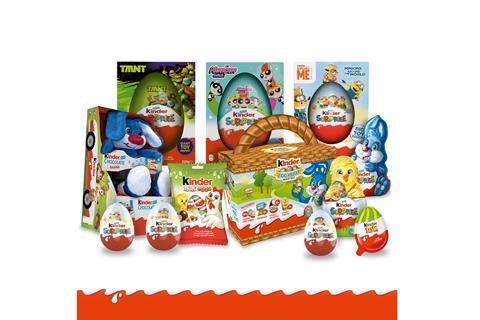 Kinder is bringing back its Easter Egg Hunt competition offering five retailers the chance to host a hunt in their store.
The competition is designed to support c-store owners and capitalise on demand for confectionery during the Easter season. Previous winner Atul Sodha experienced a 60% spike in footfall at his Londis store in Harefield following the activity.
For the 2019 campaign Kinder is introducing a new element to the competition, encouraging customers to draw a story featuring their favourite Kinder Surprise Toys.
Furthermore, this year's winning retailers will win a tailored Kinder Easter Egg Hunt kit to activate the event in-store with Kinder Surprise stock, social media assets and posters / packs to promote the hunt.
Levi Boorer, customer development director at brand owner Ferrero, said: "We are delighted to be helping our retailers give back to their local community by delivering the ever-popular Kinder Easter Egg Hunt. The ethos for Kinder revolves around sparking imagination and bonding families, which is why we've bolstered the campaign this year by inspiring local communities to unleash their creativity and produce a story featuring their favourite Kinder Surprise toy.
"This campaign was actually devised in conjunction with last year's winner, Atul Sodha. After such great results were seen in his store after the activation, we were keen to collaborate with Atul and together we developed this added layer that is sure to help retailers to strengthen their bonds with the local community, as well promote the Easter Egg Hunt in their store in the lead up to the event.
He continued: "Convenience stores can have the upper hand over the grocery mults in their connection to the local community. So it is increasingly important that they create excitement and theatre in the lead-up to key occasions – and what better way than an in-store Easter Egg Hunt?"
Atul Sodha added: "These events are really important in creating excitement in-store. They really reinforce our presence in the local community, and the support from Ferrero in attracting locals to visit the store was first class, with the POS and advertising drawing a wide range of customers into store on the day. It's great that suppliers, like Ferrero, are including retailers in the planning phase of events such as this."
Competition entries open on 13 March and winners will be announced in early April, ahead of the activation of the Kinder Easter Egg Hunt in all five winning stores on 20-21 April.
To enter the UK wide competition, retailers must sign up to be a member of Ferrero's retailer hub, Your Perfect Store, and complete an online form.