Kerry Foods is launching a £3m marketing campaign to raise awareness of its Strings & Things portfolio and highlight the recent launch of its Cheeshapes snacks.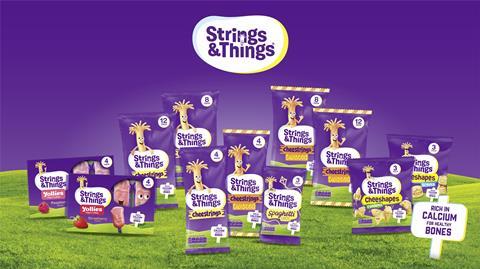 The activity consist of two adverts running across TV, video on demand, social and radio. One 30 second advert will focus on the entire Strings & Things product portfolio: Cheestrings, Cheeshapes and Yollies, while the second 10 second creative will focus solely on Cheeshapes.
The TV adverts (see below) will run from now until the end of September, to coincide with children heading back to school. The central ambition of the campaign is to highlight the expansion of the Strings & Things masterbrand as well as raise awareness of the new brand name.
Strings & Things now includes Cheestrings as well as a broader range of products across children's snacking. The TV support is expected to reach 69% of the Strings & Things core audience while the video on demand and social media push is expected to reach 10.2m people.
Victoria Southern, marketing category director at brand owner Kerry Foods, said: "We're very excited to launch our first ad campaign under our new masterbrand - Strings & Things, and to highlight to consumers the full range of exciting products that come under this. The ad is light-hearted and playful to mimic the personality of the range and will launch just in time for children to return to school where we hope Strings & Things products will become lunchtime staples."