Kerry Foods is launching a new dairy snacking brand: Strings and Things, bringing together Yollies, Cheestrings and a new Cheeshapes range.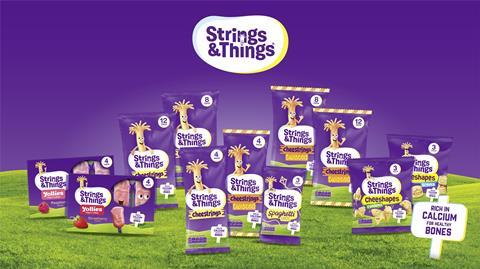 Available to c-stores from this month, the Cheeshapes innovation comes in two variants: Randoms and Icons. The new shapes are designed for lunchboxes or on-the-go snacking and designs include funny faces, unicorns and pieces of fruit (see below).
Designed to attract a wider range of kids, the Strings and Things master brand will roll out to Yolliies, Cheesestrings and Cheeseshapes products in April. The new-look range will launch with updated packaging and a £4.4m campaign.
Supporting activity will include TV, digital and instore content taking place throughout the summer and during the back to school period.
Anna Moore, marketing manager for Strings and Things at Kerry Foods, said: "The Cheestrings brand is worth £49m RSV and is ranked kids' favourite cheese snack[2]. Following such a successful year, we're really excited to bring our kids dairy snacking brands under one umbrella, which future proofs our brands and gives us a strong platform to launch innovation. Plus, the refresh will help amplify the brand's fun appeal across the category. Cheeshapes is a truly innovative product with more than just a nutritious purpose; the shapes have wide appeal and encourage kids to use their imagination, and research suggests kids are going to love them.
"The burst of TV support is perfectly timed for the summer and the back-to-school period when parents will be looking for a quick snack to keep children occupied during lunch and snack time. It's a great time for retailers to be stocking the product and the revamped range, as it will be front of mind for shoppers with the heavy support plan in place."
The new Cheeshapes have an rrp of £1.50 and a promotional price of £1 per 3 x 22.5g pack.