Kerry Foods has announced the launch of Naked Glory: its new range of meat free products, designed to appeal to meat eaters.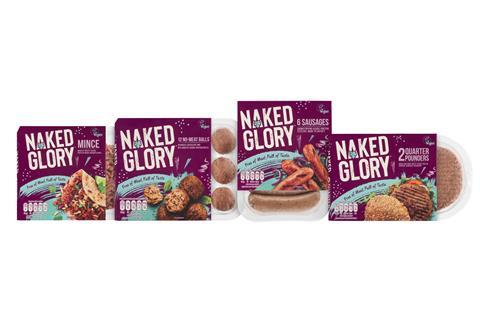 The product range is set to shake-up the meat free category and highlight Kerry Foods' continued commitment to catering for consumers who want to moderate their meat consumption.
Naked Glory's entire portfolio is made from rehydrated soya and is registered with The Vegan Society. Made up of a variety of lines to suit different occasions, the range includes: quarter pounders; sausages; 'no meat balls'; and mince (All rrp £2.75).
The products will start rolling out to convenience stores from this week and will be supported by a £2.5m investment in digital, social, out of home and shopper marketing from this month and throughout 2020.
Commenting on the launch, David Hamilton, chief innovation officer at Kerry Group, said: "We are really excited to be bringing Naked Glory to market and adding some much-needed sizzle to the meat free category. The target from the start was always: 'looks like meat, tastes like meat, in fact it needed to be the meatiest thing since meat!' Harnessing our global capability and knowledge, our meat mixologists linked food craft and science to create meaty ooziness, full on taste and a true meaty texture in all our products.
"We've taken our time as product delivery was paramount and are confident the brand will be a hit with everyone – regardless of their dietary preferences. With a range of quarter pounders, sausages, mince and more, we have a full spectrum of meat free alternatives that can be enjoyed by those looking to reduce their meat consumption but still want delicious taste at mealtimes. This is a really exciting and dynamic space and our meat mixologists are continuing to conjure up thrilling new ideas. With that said, our core aim at the moment is to ensure that we're offering our customers and consumers alike 'the meatiest thing since meat' and that the new range hits the spot with food lovers up and down the country – whether they're vegetarian, vegan or meat-eaters."