Richmond is moving into the meat free market for the first time with a new pack of vegetarian sausages.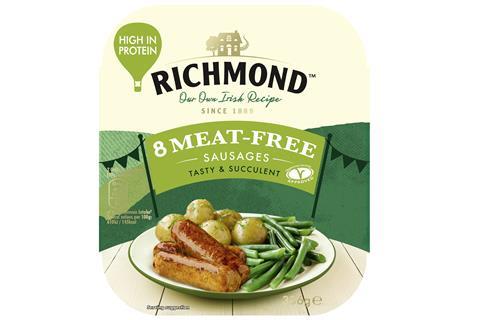 The launch, made for new and existing customers, claims to offer the same taste as Richmond's regular sausages and features a recipe of soya-based protein. Each sausage contains 57.5 calories and will be sold in packs of eight with an rrp of £2.50.
The new product will sit alongside the brand's existing pork and chicken ranges in the chiller and retailers will be supported with clear signposting and marketing materials to ensure all shoppers are aware of the whole range.
Dawn Spencer, director at brand owner Kerry Foods, said: "We know how much people love our sausages – we're the nation's favourite. But increasingly consumers are looking for a broader range of options to choose from, and this includes alternatives to meat.
"Richmond is one of Kerry Foods' longest-standing brands, but we're constantly looking for ways to innovate and meet the demands of consumers. We're confident people will love our meat free sausages just as much as our core ranges, making this a must-stock for retailers looking to appeal to families looking to try something new in their weekly shop.
Spencer added: "Our complete range of sausages ensures we are bringing families together at mealtimes, helping them create one meal with different options for all dietary preferences."
Richmond meat free sausages will roll out to independent retailers and convenience stores next year (2020).