Canned fish brand John West is launching two sets of new products designed to meet consumer demand for snacks that are naturally high in protein.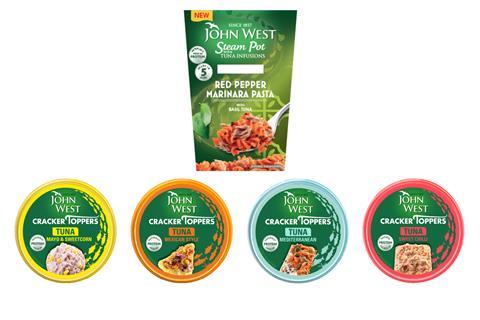 The first, Cracker Toppers, a reinvention of the brand's current Spreadables line-up, come in four different flavours: mayo & sweetcorn, Mexican style, Mediterranean and sweet chilli.
The snacking products are designed to be enjoyed with crackers or crisp-breads. With no preparation needed and featuring an easy-to-use ring pull lid, the Cracker Toppers come in 80g tins (rrp £1.10 each).
In addition, John West is also extending its range of Steam Pots, combining the flavours of its Tuna Infusions range with seasoned rice, pasta, or noodles for a protein-rich lunch option.
Recipes include: sundried tomato infusion with rich tomato pasta, soy & ginger infusion with sweet & sour noodles, Indian spiced infusion with biryani rice, jalapeno infusion with Mexican salsa rice, chilli and garlic infusion with red pepper couscous and basil infusion with red pepper marinara pasta.
The Steam Pots can be cooked with the addition of boiling water, which is then stirred, left for five minutes and then stirred again before eating (rrp £2.49 each).
Jon Burton, marketing director at John West, said: "We're committed to product innovation and driving growth by responding to consumer needs. Our new Cracker Toppers and Steam Pot variants offers customers on-trend new flavours in exciting formats.
"These products make it even easier to eat fish – natural source of protein as well as convenient, they provide a great snack that you can feel good about."
Available from June, the launch of the new products will be supported by in-store promotions, consumer PR and social media activity.