Highland Spring is extending its eco range with the launch of a 100% recycled and recyclable plastic bottle for kids.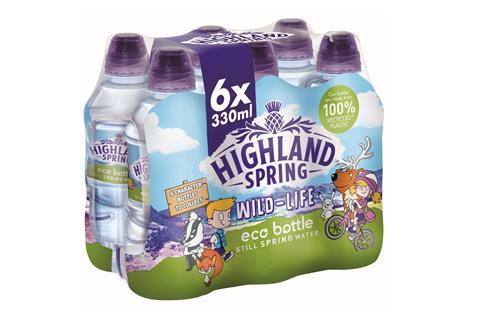 The new bottles are being listed in The Co-op, Spar UK, Booker and Unitas as part of a revamped Highland Spring 6 x 330ml wild-life kids multi-pack (rrp £1.80).
The product is designed to educate children on the importance of healthy hydration as well as encourage them to recycle from a young age.
Carol Saunders, head of marketing at Highland Spring Group, said: "Helping kids to understand the importance of healthy hydration and recycling from a young age is more important than ever.
"Research tells us that 25% of kids drink less than a glass of water a day [Natural Hydration Council Research]. One in three parents struggle to get their child to drink water generally, and eight in 10 are convinced they rarely get enough fluids [Dr Emma Derbyshire, Easy Peel Oranges]. It's clear that we need to make water for kids fun again!"
She added: "That's where our wild-life kids pack comes in. We're building on a theme that performed well when launched last year by combining all the fun of childhood adventure with functional messaging around the importance of hydration and recycling. This will help children develop healthy habits from a young age."
A digital campaign, kicking off this summer, will support the new kids packand eco bottles with an interactive gaming adventure going live on the Highland Spring website.
Using the web platform, children can pick a character from the wild-life gang and take on the challenge to collect and recycle as much litter as they can whilst keeping themselves hydrated.