Highland Spring has kicked off its new 'Remarkabubble' campaign with the aim to make sparkling water an everyday choice for consumers.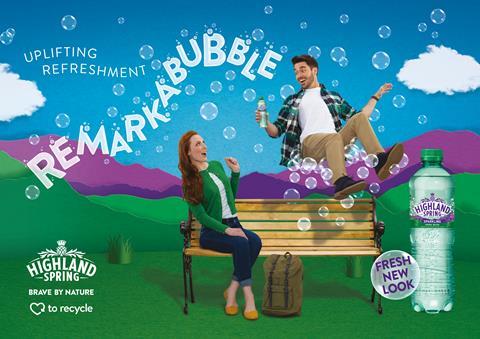 The campaign is part of a £1m investment and aims to address the changing consumption habits of sparkling water.
Designed to reposition sparkling water as an everyday, healthy indulgence, the multi-channel activity will consist of national outdoor advertising and digital / social media content, which will run in close proximity to convenience stores across the UK.
Commenting on the campaign, Carol Saunders, Highland Spring head of marketing, said: "Our major new 'Remarkabubble' campaign celebrates the role that sparkling water plays in elevating the everyday hydration experience to make it a refreshing treat.
"Far from sitting on the side-lines of the soft drinks category, sparkling water has major potential for growth if we inspire consumers to incorporate it as an easy way to feel great while they hydrate daily."
The campaign, which runs for four weeks from 26 August, follows the unveiling of the brand's new look sparkling water bottle in June.