Highland Spring is introducing 'A to Anywhere' – the latest phase in its 'Brave by Nature' multi-channel brand campaign.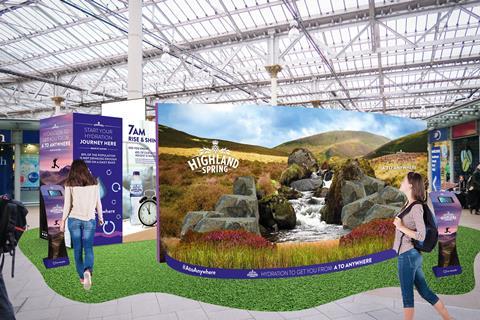 The activity is set to help educate consumers on the importance of healthy hydration and drive growth in the bottled water category.
The £1.75m campaign will position the brand as the natural choice for staying hydrated on everyday journeys, and will include Highland Spring's biggest experiential activation since it was founded in 1979.
Inspired by Scotland's Ochil Hills, the interactive brand event will start in Glasgow this May then continue on to Manchester and London through to June.
The event will feature LCD displays and a 360-degree virtual reality experience, designed to showcase the brand and promote its environmental credentials
Other key elements of the 'A to Anywhere' campaign include TV advertising in Scotland, as well as an outdoor digital campaign in Glasgow and London. PR, social media, sampling and influencer marketing will also help drive further awareness.
Carol Saunders, head of marketing at the Highland Spring Group, said: "'As we move into year three of our 'Brave by Nature' brand campaign we are confident that 'A to Anywhere' will inspire consumers to think more about the importance of staying hydrated and the need to drink water throughout the day, wherever they are.
"We want people to learn that our bottles have multiple lives when disposed of responsibly and as part of this, we will be truly immersing them in the Highland Spring brand - helping them to uncover the beauty of the Ochil Hills, our commitment to the environment and, of course, the unrivalled taste of our Highland Spring natural source water."
The 'A to Anywhere' campaign will run until September when Highland Spring will be unveiled as the Official Hydration Partner of the Solheim Cup 2019 - the women's biennial golf tournament taking place at Gleneagles this autumn.