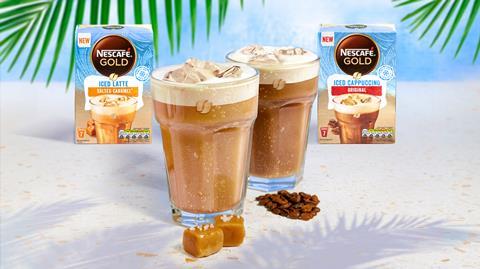 Nestlé's new Nescafé Gold Iced is available in Iced Cappuccino and Iced Latte Salted Caramel flavours, both rrp £2.98. The cold coffees are said to offer an indulgent taste without the guilt, coming in at under 60 calories per cup.
Laura Branch-Parker, senior brand manager for Nescafé Gold Frothy Coffee at Nestlé UK and Ireland, said: "We are very excited to launch the new iced range of Nescafé Gold ready for the summer. We have seen a huge growth in the popularity of iced coffee in cafés and coffee shops as people look for refreshing iced frothy coffee on the go."
The new Nescafé Gold Iced coffees are available in convenient sachets and can be made at home in seconds just by adding cold water and ice.
Nescafé is available in more than 180 countries worldwide. More than 5,500 cups of Nescafé coffee are consumed every second with different varieties catering to different tastes and preferences around the globe, claims the company.
Coffee beans for Nescafé products are sourced responsibly through the Nescafé Plan, the world's largest coffee sustainability programme, which is now active in 20 countries. Over the past ten years, the Nescafé Plan has worked to make the farming and production of coffee for Nescafé products more sustainable while improving the lives of farmers and the economic and social development of their communities.