Bar-Be-Quick, the brand behind the first-ever instant barbecue, has created wood free briquettes made from 100% sustainable materials.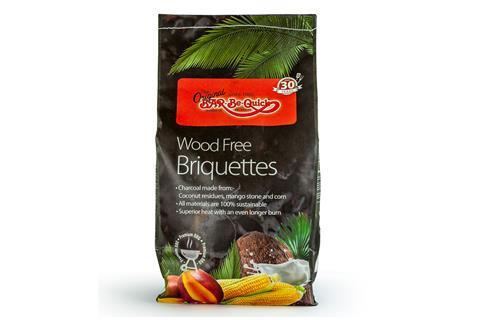 Featuring a combination of coconut husk, mango stones and corn stover, the CO2-neutral briquettes are formulated from entirely natural ingredients which would otherwise go to waste.
They are odourless, free from chemicals and offer a clean burn with low smoke and a longer burn time than conventional wood charcoal. The bagged briquettes also have a longer, hotter burn, with an average burn time of five hours when used in a smoker or kettle barbecue.
Paul Keighley, managing director of Bar-Be-Quick, said: "We pride ourselves on being an environmentally-minded business – we were the first UK charcoal supplier to be awarded Forest Stewardship Council certification –by offering the Wood Free Briquettes, we are taking one step further into offering sustainable products.
"The briquettes are created using materials that otherwise would have gone to waste. They are manufactured in a sustainable manner with no harm to the environment and we're very proud we can offer this renewable product. They are great quality – they provide an excellent heat transfer and consistent temperature, making them perfect for barbecuing. We're currently looking into other potential formulas using other waste materials as we continue to become more sustainable as a business."
The briquettes will be available to independent retailers for the 2020 summer season, via the wholesale channel. The bags will come in two formats: 5kg and 5 x 5kg bags (rrp £8 - £10 each).