St Pierre Groupe's Baker Street brand has launched a new set of mega bread buns designed for the British BBQ season.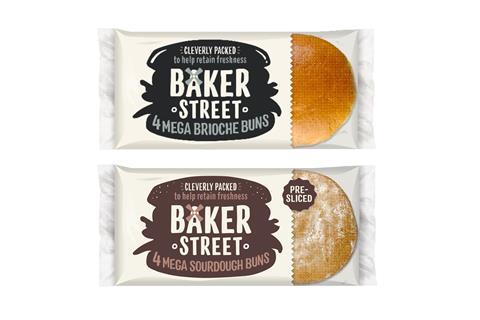 The buns come in two types: sourdough and brioche, and are approximately 4.5" in diameter. Sold in packs of four, the larger products are aimed at consumers looking to make their sandwich or burger into a full meal.
Delivered pre-sliced and with a long ambient shelf life, Baker Street's mega buns are also packed to offer customers convenience and minimise food waste.
Jeremy Gilboy, founder of brand owner St Pierre Groupe, said: "Our new mega buns have been developed for passionate foodies and hungry, time-poor consumers; particularly with BBQ season just around the corner. We wanted to create a product that consumers would expect to find in a restaurant but with the convenience of longer life.
"The popularity of sourdough and brioche has sky-rocketed in recent years, both in restaurants and now in the home. We're meeting this demand, whilst offering our consumers that same restaurant experience from the comfort of their own home."
Available for convenience retailers to order now, the sourdough mega buns carry an rrp of £1.69, while the brioche mega buns have an rrp of £1.99.