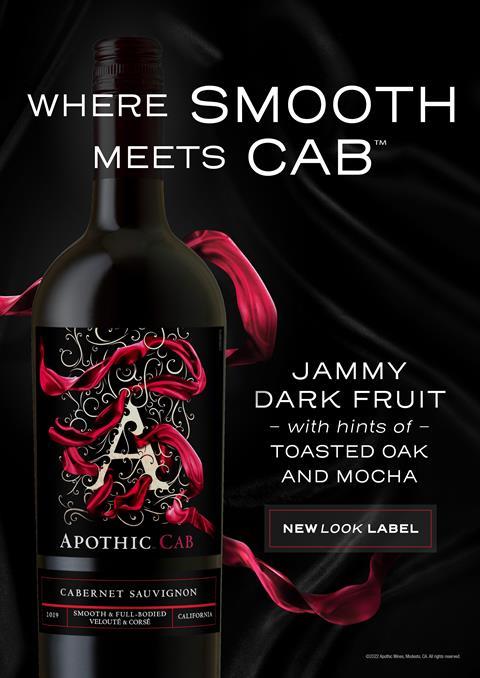 Premium wine brand, Apothic, will be rolling out a new label for Apothic Cab this spring, with the 'A' appearing in a silver rather than the traditional burgundy, distinguishing it from Apothic Red.
A silk ribbon has also been added, woven through the filigree to emulate the 'silky smooth' contents.
Launched in 2020, Apothic Cab was created to appeal to Cabernet enthusiasts as well as novices and combines a dark fruit profile with aromas of oak and vanilla.
Mark Stammers, sales director at E&J Gallow Winery, said: "We are delighted with the initial performance of Apothic Cab and believe this striking, and more premium, new label will further fuel its growth thanks to its improved differentiation.
"When it comes to choosing their wine, we know that consumers are looking for more premium options. Apothic Cab delivers a winning combination of a stylish and sophisticated bottle with a smooth wine style that has a wide appeal. It's a must-stock for retailers looking to trade their consumers up through the price points."
The transition to the new label will be supported by a consumer facing influencer campaign in the run up to Easter, set to reach 1.5m target consumers, as well as through Apothic's social media channels and retailer trade activities.
Apothic wines are available at all major retailers and cash & carry wholesalers with an RRP of £9.50.