Sharing formats and pricemarked packs remain key drivers as consumers get their sugar fix during lockdown
From tongue tingling popping candy to the fruity rush of a jelly baby, sugar confectionery evokes a sense of pleasure like nothing else, and many consumers return to the sweetie aisle time and again to relive the joy. Sugar confectionery therefore continues to be an important category with a current market value of £1.07bn and growing at +1.6% [IRI Total market 52 w/e 14th Oct 2019]. "Confectionery remains in the top purchases within the convenience channel, so is a category that retailers can't afford to ignore," says Perfetti Van Melle trade marketing manager Mark Roberts.
Mondelez International concurs. "Confectionery is one of the biggest food and drink categories in convenience and is the most impulsive [Nielsen value sales MAT w.e. 11.08.18], so it's a crucial category in any store," says trade communications manager Susan Nash.
With millions of households across the UK currently on lockdown, sweets have become currency for many parents looking to reward or incentivise good behaviour.
Martin Lightfoot, who runs Solo Convenience in Glasgow with wife Natalie, has definitely seen an increase. "There's more people at home, everyone is buying more food because they're at home more. There's more sweets being bought from c-stores because people are rewarding their kids more."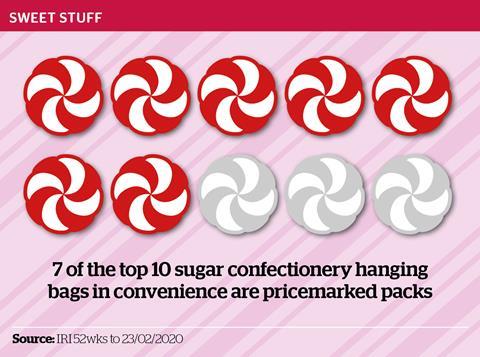 Mos Patel, who owns two stores in Manchester has seen sales of bagged sugar confectionery pick up in recent weeks. "We've sold more £1 sharing bags - Haribo, Maynards and Skittles - because they're near the till," he says.
In fact, sharing now accounts for 65.7% of the confectionery market, with value sales up +5.2% [IRI 52 w/e 14th Oct 2019], highlighting the importance that bagged formats now play. "This is an opportunity convenience store owners can't afford to miss," says Roberts.
Sharing bags are also doing good business at Scotch Estate Premier Top Shop in Jarrow, Tyne and Wear. "The big bags of pricemarked sweets - Drumsticks, Haribos, jellies and Starburst are selling well because everyone is at home," says Taz Ali, who runs the store with brother Nico. "We have all the sugar confectionery deals on one side of the store. Everyone has different tastes, but Haribo Starmix is the bestseller."
What's more, the current unease and instability caused by the coronavirus pandemic, may encourage consumers to buy more sugar confectionery than usual. Paul Hargreaves, chief executive at speciality and fine food wholesale distributor Cotswold Fayre, says: "When times are bad, consumers seek out small luxuries. In light of recent events, this has certainly been true, but we'll see the real impact of this over the coming months in terms of uplift of 'treat' sales."
Maynards Bassetts and Cadbury join forces for football promotion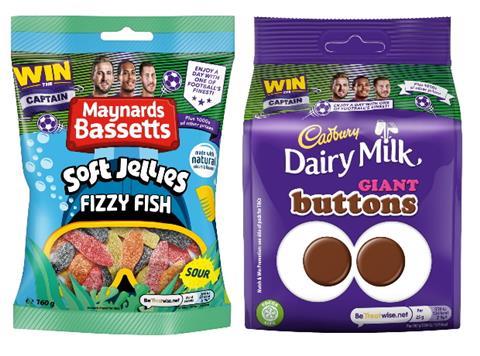 Maynards Bassetts has teamed up with Cadbury this summer, offering shoppers the chance to win a once-in-a-lifetime experience with an international football captain.
The Win the Captain promotion includes over a hundred product lines across the Maynards Bassetts and Cadbury portfolio including bags, singles, multipacks, large bags, tablets and biscuits ranges. The campaign includes both an on and off pack promotion.
The new campaign will run until July and will give consumers the opportunity to win a day with one of football's finest. The line-up includes Eden Hazard, Virgil Van Dijk and Harry Kane. There's also a chance for consumers to get their hands-on with thousands of other experiences, such as stadium tours, esports and bubble football games.
The launch is being supported through a media campaign. Retailers can order posters to help communicate the promotion to shoppers in store by visiting www.deliciousdisplay.co.uk.
A range of Cadbury and Maynards Bassetts' star players, including Maynards Bassetts Wine Gums, Cadbury Dairy Milk and Cadbury Fingers will feature a compelling on-pack mechanic inviting shoppers to purchase. Other participating SKUs will instead have an off-pack promotion. All consumers need to do is head to captain.cadburyfc.com and enter the barcode and batch code from their purchased product to be in with a chance of winning.
5 TRENDS TO WATCH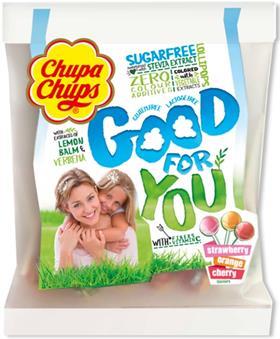 HEALTHIER
As a result of consumers becoming increasingly health conscious, they're looking for alternative products. The Better For You (BFY) market is now worth £45.3m and Perfetti Van Melle claims to be leading the way with BFY growth of +2.8% and a 31% share of the category [[IRI 52 w/e 14th Oct 2019]]. "We only expect the growth of BFY to continue in the spring season, as consumers look to start making healthier decisions going into the summer months," says trade marketing manager Mark Roberts.
PORTION CONTROL
Despite the continued [negative] press coverage about sugar, consumers are still keen to enjoy sugar confectionery products in moderation and as part of a healthy/balanced diet, states Swizzels. "We have put our health focus on ensuring pack sizes are suitable for portion control and that labelling is clear, making sure consumers make informed decisions," says sales director Mark Walker. "The individual items within our variety bags are all less than 100 calories making them an ideal treat size."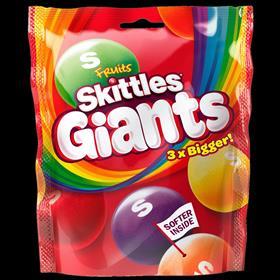 DIFFERENT TEXTURES
Where previously innovation focused on introducing new flavour varieties, Mars Wrigley is now differentiating flavour profiles, textures and formats. The firm recently launched Skittles Giants, which are three times the size of a standard Skittle with a softer centre. The sweet is available in four pack sizes ranging from 45g to 170g and will offer a more mouth-watering fruity flavour in one sweet.
VEGAN
There is a growing demand for vegetarian and vegan-friendly sugar confectionery products and clearer indicators of what is suitable for these dietary needs, claims Swizzels. The firm has adapted many of its products to be suitable for vegetarians and vegans, easily identifiable with a clear vegan friendly flash on packs.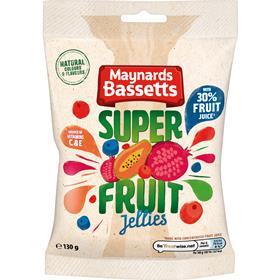 AUTHENTICITY
Mondelez claims that authenticity is a major trend, with consumers desiring natural ingredients that offer added benefits. The firm has launched Superfruit Jellies to meet this demand. The 130g bags are available in papaya, pomegranate, blueberry and cranberry flavours. "Each unit contains 30% fruit juice and every six sweets contains 15% of the recommended daily intake of vitamins C & E."
Swizzles releases pudding-themed chew bars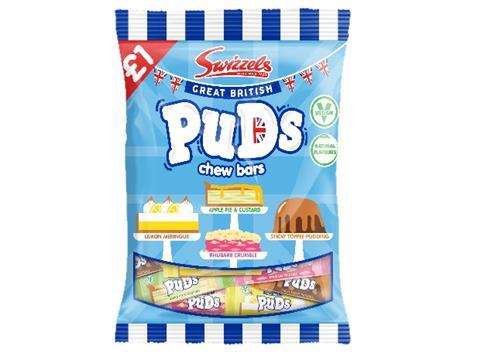 Inspired by Britain's favourite puddings including Sticky Toffee Pudding, Lemon Meringue, Apple Pie and Custard and Rhubarb Crumble, Swizzels Great British Puds chew bars come in a 135g hanging bag. Packs will carry a £1 price flash. The product was invented by an avid Swizzels fan as part of our 90th birthday 'Sweetest Invention' competition.
The sweets are available in a £1 pricemarked pack (135g) specially for the convenience channel, while 150g bags (rrp £1.29) will be available in other retail channels.
What's more, the firm is also launching 142g packs of Love Hearts and Parma Violets Originals in £1 pricemarked packs for the convenience market.
Jeremy Dee, managing director of Swizzels said: ''Since the announcement of our Sweetest Invention competition winner, the team and our winner Tracy-Jane have been hard at work developing Great British Puds, so we are delighted to finally be able to bring them to retailers. Great British Puds is our biggest launch for 2020 and we are confident it will contribute to the exponential growth we are experiencing across chew bars and hanging bags.''
Display & Merchandising tips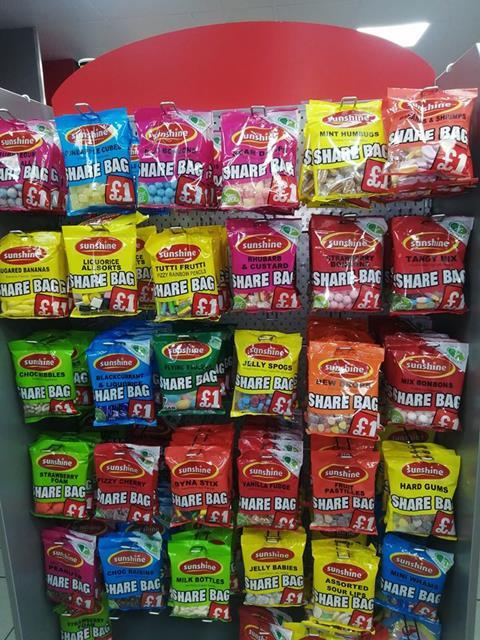 Merchandising confectionery from the same brand together can create real impact in-store - Cotswold Fayre
Stock NPD ahead of demand
Ensure NPD and promotional products are stocked in advance of media - Mondelez
Use signage to aid navigation
Clear signposting is key for confectionery as 80% of sales are purely based on impulse: it helps shoppers make a conscious choice when selecting their purchase - Perfetti Van Melle
Consumers seek out price marked packs in convenience stores as they believe they offer better value for money - Swizzels
Mars Wrigley's Sweetstake promotion returns with charity partnership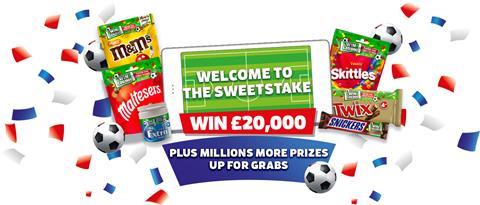 Mars Wrigley UK has partnered up with the National Emergencies Trust (NET) for its 2020 Sweetstake promotion to support the group's coronavirus appeal.
The on-pack promo runs across a range of fruity and chocolate confectionery and gum products, offering millions of prizes with top cash prizes of £20,000. Brands included in the promotion include Starburst, Skittles, Extra and Mars.
Promotional codes can be found inside a range of brand formats which consumers can register at www.thesweetstake.com for their chance to win, from today until the closing date of 11th January 2021.
Rather than the prize outcome being dependent on scenarios associated with live football matches, as was the case in previous promotion, which was in partnership with the England men's football team, consumers will now be given two virtual football scenarios and an associated prize that can be won if the outcome of the virtual game matches the scenario given. The prize pool consists of £20,000, £1,000, £500, £20 and £5 cash prizes plus millions of free pack coupons which can be claimed when making an essential shopping trip.
Sweetstake winners will also be contributing to a fantastic charity, with Mars Wrigley UK adapting the promotion amid the current crisis and now making a donation that matches the value of every prize claimed to NET in order to reach the target donation of £500,000. If the total matched value does not reach the target donation, Mars Wrigley UK will make up the shortfall.
Emily Owen, reward brand manager at Mars Wrigley UK said: "Sweetstake is an exciting promotion that we know consumers and retailers love. However, when we originally came up with the idea for Sweetstake 2020, we had very different plans. As a result of the Coronavirus outbreak, we made a number of changes to the promotion but still with the aim to give shoppers and retailers alike a fun and exciting promotion to engage with. By partnering with NET, the Sweetstake 2020 promotion will not only support retailers during this difficult time and excite consumers but will also fund organisations providing vital support to people affected by the Coronavirus outbreak."
The promotion will further be supported by in store activation through POS and overlays, alongside social support.
Stand out from the crowd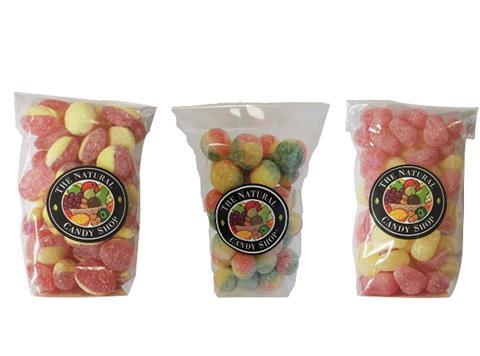 Convenience stores can really benefit from stocking a range of products that consumers won't find in the supermarkets, states speciality and fine food wholesale distributor Cotswold Fayre. "Retailers should consider stocking a range of more unusual skus to attract new customers to the confectionery aisle," says chief executive Paul Hargreaves. These could include:
* Naturally flavoured sweets from the Natural Candy Shop with skus including new Rosey Apples, Pear Drops, Rhubarb & Custard and Jelly Beans. The traditional-style sweets come in 6x250g bags with an rrp of £3.
* Recently rebranded Peppersmith's Sugar Free Chewing Mints and Pastilles range, made with fresh British mint, including Peppermint Mints, Sicilian lemon and new xylitol strawberry Pastilles. The sugar free, vegan range is available in 12x16g packs with an rrp of £1.80.
* Baru's Vegan Mallow Puffs range of super-puffy mallows in raspberry, vanilla bean and salted caramel flavours, offering a tasty alternative product. The puffs have an rrp of £3.80 and come in 6x100g packs.