1. An early start will help spread the cost of Christmas
Despite rising prices, economic hardship, and the trend towards cutting down on drinking, consumers still want to spend come Christmas-time.
However, retailers should get off to an early start to help their customers spread the cost of their purchases, suggests Pernod Ricard. "Generally, it's pretty tough out there for most people. They'll probably be looking to spread the cost of Christmas," says off-trade channel director Chris Shead. "People will be looking to buy Christmas gifts early, so if you have a standard range most of the year and at Christmas you tend to buy into more premium categories because people are interested in trading up at Christmas, then do it slightly earlier – from October onwards," he says.
Tom Smith, marketing director – Europe, at Accolade Wines, says: "Christmas is always an important time of year for alcohol sales, and this year is set to be no different. Key trends remain, so we will see more people trading up their purchases and treating themselves to additional items, as well as shoppers tapping into the alcohol category who aren't regular purchasers."
The likelihood is that shoppers are far more likely to cut back on their experiences in pubs, bars and restaurants while trading up for special occasions within stores. John Price, head of marketing at KBE Drinks, which owns Kingfisher beer, says: "The continuing cost-of-living crisis and consumers having less disposable income in their pockets may well mean fewer visits to pubs and restaurants and probably more eating and drinking at home this Christmas, which should present an opportunity for convenience retailers to exploit."
Bacardi has also witnessed a similar pattern. "With spirit sales growing faster in the off-trade than the on-trade (Nielsen/CGA), staying in is the new going out this Christmas which is only going to benefit retailers," says impulse controller Sharon Kearney. "Despite economic pressures, last year one quarter of consumers stated they were looking to spoil themselves with a more premium drink [CGA] ."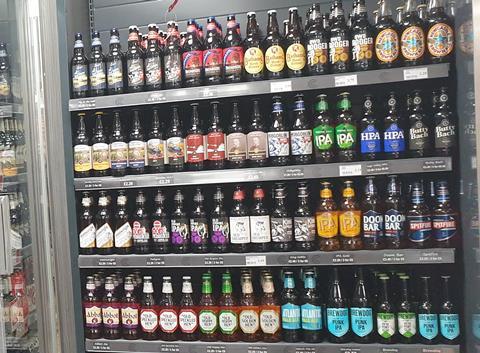 2. Craft beer experienced its best-ever share of beer sales in Christmas 2022
With many shoppers looking for premium options at this time, craft beer offers retailers a great opportunity to drive sales into a more profitable category, states BrewDog. Christmas 2022 was a particularly strong year for Craft Beer, with the category achieving its best-ever share of beer sales at 7.3% [Nielsen], with sales outperforming total beer at +3.9% vs +0.8% and +8.2% vs two years ago [ibid], notes the firm. The past two Christmas sales periods were the brand's best ever, +15.8% growth vs 2YA [Nielsen]. "With strong momentum for the brand, we expect this Christmas to be bigger yet again," says Miriam Thompson, off-trade category development manager, BrewDog PLC.
The move to more premium products at Christmas includes craft beers, concurs Badger Beer, which saw sales up 63% on average monthly sales of the previous three months (Nielsen). "When planning the festive beer fixture, however, it's worth remembering that the majority of consumers are purchasing not just for themselves, but for family or friends as well. For this reason, they are more likely to choose a more mainstream beer that will appeal to all their guests, rather than extreme hop-forward craft beers that have only limited appeal," notes marketing manager Giles Mountford.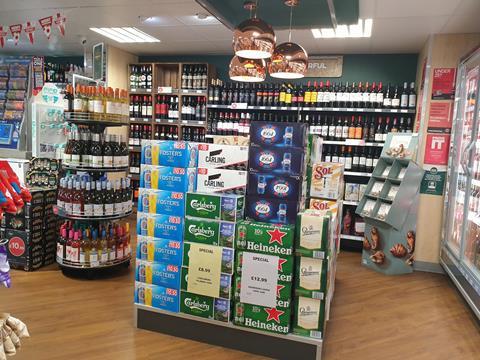 3. 10- and 12-packs of beer grew 19% last December
Within beer and cider, retailers should pay close attention to their range of multipacks, ensuring they are stocking a broad range of premium brands in bigger formats.
Alexander Wilson, category & commercial strategy director at Heineken, says: "We expect premiumisation to continue to grow this Christmas. Premium lager grew +10.6% in the last quarter of 2022, with massive growth in penetration as consumers want better quality products [Nielsen]."
The size of multipack is important to get right, with mid-packs leading the growth. Steve Young, sales director at Asahi UK, says: "Ten and 12-pack formats grow share at Christmas, with value share growing by 19% in December vs the rest of the year [Nielsen]. It's important to provide sufficient support for these larger packs as shoppers cater for Christmas events."
Over in craft beer, larger 8+ can count packs are the key formats, with 28.4% of sales going through this format at Christmas vs an average of 19.0% over the remainder of the year [Nielsen], says BrewDog's Thompson. "As a result, 8-12 count packs grew +7.8% vs YA and an impressive +70.9% vs 2YA in this period [Nielsen]," she says.
It's a similar story in cider too. Paul Callow, senior category and insights manager at Thatchers Cider, says: "Cans are where growth is within the cider market. Mid-packs have so many advantages over larger packs such as the 18-pack, which is in decline. Four-packs are the bestsellers for impulse buys and supporting weekly budgeting for those concerned about spend [Circana]."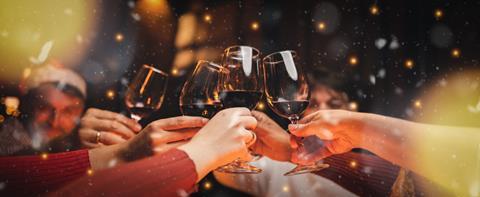 4. Premium wines will be in demand despite the Cost-of-Living Crisis
While many consumers have had to tighten their purse strings this year, plenty are still planning to trade up this Christmas.
Lucy Bearman, wine portfolio director at Pernod Ricard, says: "Into Christmas, premiumisation increases with people really trading up into more premium reds, such as our Jacobs Creek Double Barrel, Campo Viejo Gran Reserva, and then in whites people are paying a bit more for their New Zealand Sauvignon Blanc, like Stoneleigh, for example."
Accolade Wines states that while wines priced at £9 aren't performing as strongly as the £6-9 range, many shoppers will still be looking to trade up for festive parties and Christmas day. "For some, that means trading up to more premium options like Hardys Crest which still lands within the £6-9 range but is a higher-quality option, whilst for others, it may be an extra bottle of their everyday favourite," says Smith.
Harj Gill, owner of Select and Save The Windmill in Birmingham, has spotted a trend for wine shoppers spending an extra £1-2 on wine at Christmas, with these incremental gains key to driving profits. "We've noticed customers tend to trade up at Christmas, moving from a £6 bottle of wine to maybe £7 or £8 bottle, for example," he says. "It's usually as a treat or to make the season more special."
Retailers in the right area may well be able to stretch their pricing ladder even further. Alan Mannings, owner of the Shop on the Green in Chartham, Kent, says: "Our wine always comes from a local supplier. We'll double or triple our order as customers often buy it as a gift. Consumers will spend between £17-£25 a bottle, which generates strong margins for us."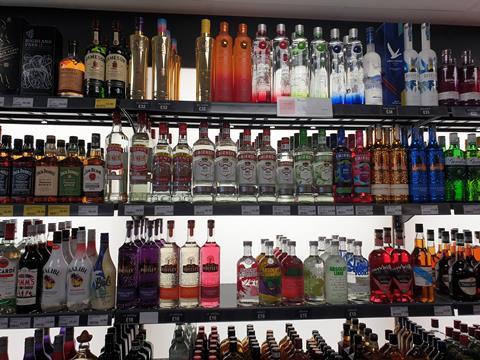 5. Vodka made up a quarter of all spirit sales in indies and symbols last December
Within spirits, gifting and cocktails are the two big missions retailers need to be prepared for this Christmas, according to Pernod Ricard UK, which owns Absolut vodka and Malibu rum.
Shead says it's younger adults who are driving demand for cocktails. "Cocktails are very much driving the energy within the spirits category. It's such a youthful and playful category and cocktails are very much of the zeitgeist," he says.
He adds: "For the convenience channel, Premium+ Spirits offer a point of difference, as the larger supermarkets are increasingly challenged by discounters."
The top 10 most popular cocktails in the UK are dominated by vodka cocktails, like the Pornstar Martini and the Espresso Martini, as well as rum cocktails like the Mojito and the Daiquiri (CGA), notes Bacardi, which makes Grey Goose vodka and Bombay Sapphire gin.
"Last December, convenience stores massively over-indexed on vodka – which represented one-quarter of all spirit sales, [Nielsen]" says Kearney.
It certainly does the business at The Windmill. "Spirits perform very well at Christmas, which is expected, and our key sellers are Smirnoff and Baileys," says Harj.
Outside of vodka, there is a big opportunity in tequila, which is storming ahead of the spirits category as the gin market cools, according to Bacardi. "Tequila, in particular premium tequila, is on-trend right now, with growth up nearly 15% in the past 12 months [Nielsen]," says Kearney.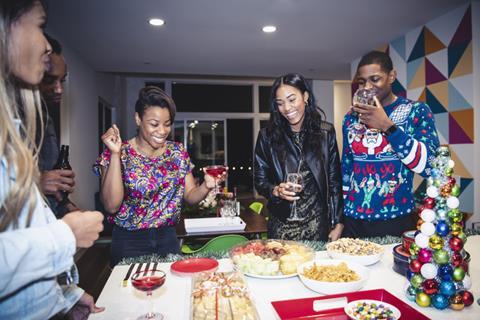 6. 41% of drinkers looked for lower alcohol or alcohol-free options last Christmas
With 55% of UK adults stating they are reducing their alcohol intake [Kam], there's never been a better time to invest in low- and no-alcohol. With the increase in social gatherings, the segment is only likely to grow this Christmas. "No & low beer has grown +20% in value and added +£14m in incremental sales respectively [Nielsen]," says Asahi's Steve Young.
This growth isn't coming from shoppers giving up alcohol altogether, but rather moderating more often when they do drink, claims Heineken. Wilson says: "Drinkers are engaging in more 'mindful drinking' and looking for ways to incorporate alcohol into healthier lifestyles, something we aren't expecting to slow down over the festive period.
"Our research from last year showed that 41% would be looking for lower alcohol or alcohol-free options to drink at Christmas (55% of Gen-Z) [Heineken], and we would predict the same for this year."
To cash in on the demand, Bestway is urging retailers to stock the following non-alcohol brands to keep their tills ringing: Guinness Draught 0.0% non-alcoholic beer, Peroni Nastro Azzurro 0.0% Alcohol Free, Nozeco Special Edition Alcohol Free Fine Sparkling and Birra Moretti Zero Alcohol Free Beer.
By ensuring there's something for everyone, retailers can expect a very merry Christmas.