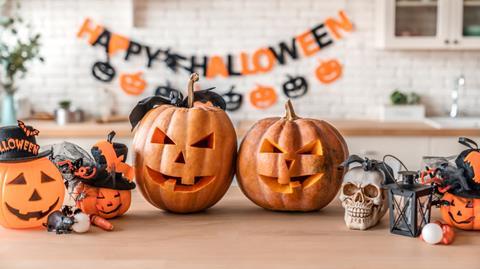 1. Last Halloween consumers spent a record £695m on Halloween, which is a 5% increase on the previous year (Mintel 2019).
"Confectionery sales over the Halloween period in 2019 reached £48m [Nielsen – Value Sales – w.e. 30.12.19], with candy being a key contributor of sales growth," says Susan Nash, trade communications manager at Mondelēz International.
However, she states that 51% of incremental sales at Halloween came from the chocolate confectionery category in 2019 (Worldpanel Plus Survey, n= 59,129, survey fielded 04/11/19 – 11/11/19). This year sees the return of Cadbury Goo Heads, available individually or in a pack of five.
What's more, Swizzels research shows that 76% of people intend to purchase sweets or chocolate for the festivities (Opinium, 2,000 nationally representative UK adults - July 2020). The company sees its share of sugar confectionery double at Halloween compared to the rest of year and expects this trend to continue in 2020.
But Halloween spend isn't limited to traditional Halloween categories, states Coca-Cola European Partners (CCEP). "Soft drinks have grown in both volume and value during Halloween over the last two years, across both grocery and impulse (Total GB I Soft Drinks I Halloween 19 vs 2YA and vs YA)," says Amy Burgess, senior trade communications manager at CCEP. This year, Fanta is launching a 'Release the Stupid Side of Halloween' campaign to provide a light-hearted spin on the Halloween season.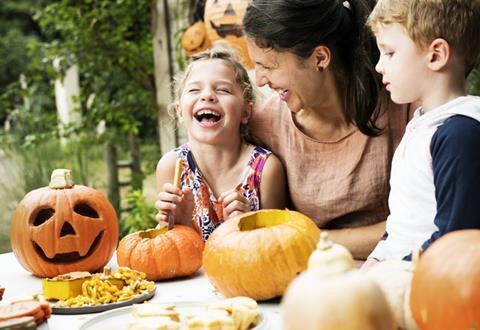 2. Celebrations will be smaller, but consumers still want to join in the festivities
"The uncertainty for the next few months will likely impact upcoming seasonal events, with 42% of shoppers saying they'll be less likely to take part in trick-or-treating for Halloween as a result of COVID-19' [IGD Shopper Vista, August 2020]," says Adrian Troy, marketing director at Barr Soft Drinks. "However, consumers are expected to continue the lockdown trend of hosting virtual events, so there is still a sales opportunity for retailers."
Haribo agrees that Halloween celebrations will go ahead. "While Halloween may be different, we certainly believe that it will still be a celebratory occasion and a driver of sales volume for confectionery," says Claire James, Haribo trade marketing manager. "What we do know is that Halloween falls on a weekend this year, so we expect an appetite for parties and trick or treating - albeit in a safe and responsible way. Whether these are smaller bubbles of celebrations or online parties - sweets will continue to be an essential feature."
She advises to display products early in order to capitalise. "Products that feature up to one month in advance support planned purchases, which we expect to see more of this year, with fewer last-minute gatherings in favour of highly planned activities that are spooky, yet safe at the same time!"
Spar UK will be promoting a Halloween at home message. "In the current Covid-19 backdrop, accepting sweets and goodies from houses outside of the immediate family will not recommended, therefore we are encouraging customers to bring trick and treating in home," says Jane Arthern, Spar UK retail marketing manager. "We have a fantastic creative – no tricks, all treats - and have some market leading deals on key confectionery, snacks, grocery, fresh and BWS lines."
ADVERTISEMENT
TAKE THE FRIGHT OUT OF HALLOWEEN WITH HARIBO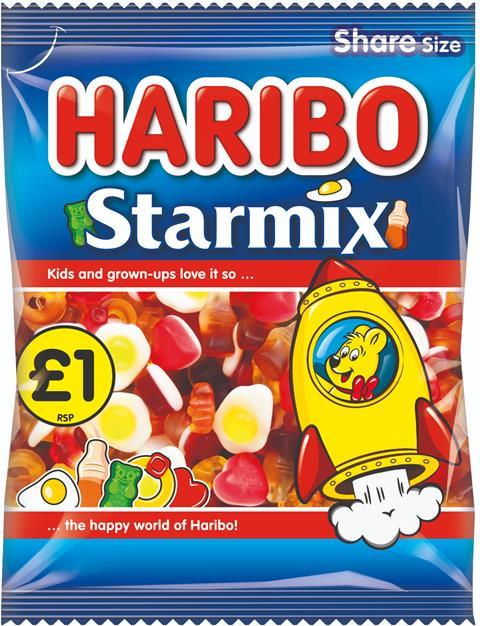 As the UK's leading sweet manufacturer and the number one sweets brand at Halloween,* HARIBO is delivering a recipe for sell-through, with Starmix offering volume and value for shoppers this Halloween.
With its iconic Egg, Heart, Ring, Bear and Cola Bottle pieces, Starmix is a top selling product that's core to stores all year round. Available in sharing bags and multipacks containing portion controlled mini bags, this treat is ideal for Halloween parties held in family bubbles and for safe trick or treating.
HARIBO Starmix is available in a 160g sharing bag, £1 PMP and in HARIBO mini multipack, containing either 11 mini bags (176 g) RRP £1 or 22 mini bags (352g) RRP (£2).
* IRI Marketplace: Total Confectionery & Halloween Viewpoint I 8 weeks I Data to 3rd November 2019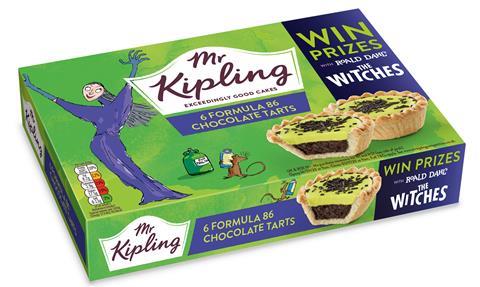 3. Cakes added +£12.4m of incremental spend to Halloween products last year (Kantar Worldpanel).
"This helped deliver an overall uplift of +£77m to retailers over the two-week period [Kantar Worldpanel 2w/e 3rd November 2019 Incremental spend calculated vs. average 2w/e sales, excluding 8weeks to 30th December 2018]," says Mathew Bird, brand director for sweet treats at Premier Foods.
The category has a strong appeal to families, and 53% of consumers list 'it's fun for the kids' as their primary reason for celebrating the event (Worldpanel Plus Survey, n= 59,129, survey fielded 04/11/19 – 11/11/19). "This year, we are cautiously optimistic that the category will perform well, and are adding a number of new products to our popular Halloween ranges from Mr Kipling and Cadbury: Mr Kipling Grand High Witches Chocolate & Vanilla Slices – 6pk (rrp £1.50) and Mr Kipling Formula 86 Chocolate Tarts – 6pk (rrp £1.50).
Pladis is equally confident in the cake category. "This year the seasonal sales opportunity for cakes is bigger than ever," says Claire Hooper, head of marketing – Cake, at pladis UK&I, noting that cakes are well-suited to the increased number of at-home occasions we can expect this year. The group has launched a digital and social media campaign which calls on shoppers to celebrate 'A Dead Good Night In' in recognition of the 'new normal'. The campaign encourages families to get creative together with some simple Halloween craft activities, which will drive the 'Halloween at Home' message. In addition, Pladis is giving McVitie's Jaffa Cakes Zesty Orangey Cake Bars a Halloween makeover with a purple sponge and dark chocolate (rrp £1).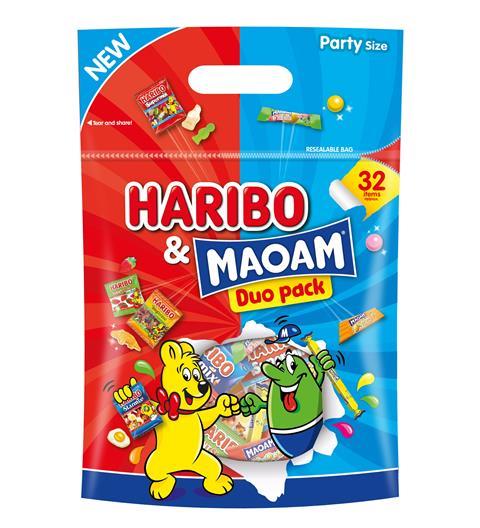 4. Hygiene conscious consumers will be clamouring for wrapped sweets
Wrapped bags were worth £5.3m over the four weeks of Halloween and growing 32% vs. the previous period – its highest share of the year (IRI 4 w/e 10 Nov, 2019).
"Although we don't know what restrictions will be in place yet, we can be certain people will be more cautious especially around occasions such as trick or treating," says Mark Roberts, trade marketing manager at Perfetti Van Melle. "They [wrapped bags] outperform unwrapped bags already and this is only likely to grow as shoppers move away from 'naked candy' to wrapped confectionery, as hygiene becomes more important and ultimately changes shopper habits. The firm claims that Fruittella wrapped bags have greater brand awareness than competitors Chewits and Maoam (YouGov 01/01/2020).
Sarah McDermott, brand manager at Chewits, notes that consumers will be looking for products that are "individually wrapped for better hygiene and allowing their children to enjoy their sweets safely." Chewits stick packs and Chewmix bags are individually wrapped and come in a mix of fruit or sour flavours.
Haribo agrees that safety will be a key factor in consumer purchasing decisions. "The sweets on offer must be fit for purpose," says James. "At Halloween value and volume have always been important, with fully wrapped products that deliver portion controlled options."
Haribo claims to be the number one sweets brand at Halloween (Total Confectionery & Halloween Viewpoint I 8 weeks I Data to 3rd November 2019). Returning for a second year is the Haribo and Maoam Duo Pack. James says: "Our Duo Pack delivers just what retailers and shoppers are looking for in a format that's safe, hygienic and convenient."
Mark Walker, sales director at Swizzels, adds: "Variety packs are a key part of the Halloween mix and account for 11% of Total Sugar Confectionery sales over the season [IRI: 4 weeks value to 03.11.2019], so they are important for boosting sales."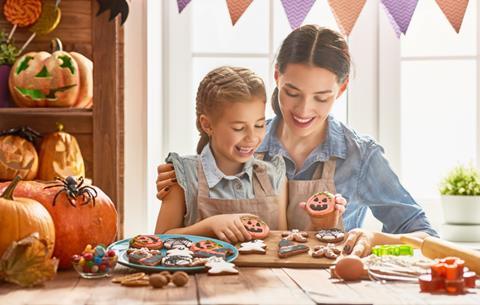 5. Home baking is set to explode this Halloween
Home baking saw an index of 120% last Halloween (Kantar, In home/carried out consumption, sweet home baking, 4 w/e 3 Nov 19 vs average for 2019 excl. 4 w/e 3 Nov).
Jen Brown, head of marketing for cake & dessert at Dr. Oetker UK, believes that homebaking sales may well increase this year. "Lockdown has brought an influx of new bakers into the category as they look for new ways to entertain themselves," she says. "Halloween will no doubt be a call to action.
"Sectors that see the biggest over index for Halloween include seasonal mixes at 356%, such as biscuits and cupcakes," she says. "Colours see an over index of 237% driven by the more popular colours for the Halloween occasion such as orange, red and black. Decorating icing has an index of 164% and sugar placements 143% as shoppers look to decorate their bakes in a typical 'spooky' fashion."
Betty Crocker is more than doubling its marketing spend, with a focus on Halloween activations and potential for increased investment following an +89.3% YOY increase in value sales over lockdown (Nielsen Scantrack data to WE 27.06.20). The campaign is designed to keep driving growth for the category, inspiring the 940,000 shoppers that the brand recruited during lockdown (Retail Economics survey, 2020) to add a spooky twist to their favourite bakes in the lead up to Halloween and through half-term.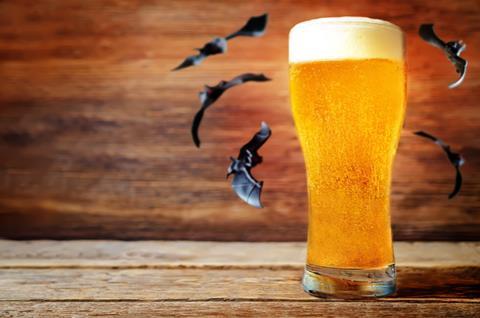 6. Don't overlook beer and cider during Halloween
Beer and cider enjoyed a 4.4% uplift in the Off-Trade during Halloween week last year (Nielsen Scantrack 2019).
Budweiser Brewing Group UK&I claims consumers will be looking to emulate on-trade nights out. "Even as the nation filters back to the On-Trade, shoppers will be looking to replicate premium On-Trade experiences at home following lockdown with a familiar format," says Jess Markowski, convenience sales director at Budweiser Brewing Group UK&I. "Beer sales for the pint can format have grown +29.2% over the last year, [Nielsen Scantrack data; 52 WE 11 July 2020] making them a must-stock."
Brothers Drinks Co. also urges retailers to stock up on alcohol ahead of fright night. "As we saw during lockdown, demand for alcohol brands that previously would've been purchased and consumed in the on-trade were channelled into the off-trade with total cider sales in Convenience experiencing a 51% increase compared to last year and we can expect a similar trend to occur this Halloween," says Nicola Randall, senior marketing manager, Brothers Drinks Co.
Heineken UK advises that cider will be popular due to its appeal to young adults. "With Halloween particularly popular amongst 18-25-year olds, the cider category tends to receive an uplift in sales during this period, as the younger generation often look to enjoy refreshing and fruity flavours," says Toby Lancaster, category and shopper marketing director at Heineken UK.·
ADVERTISEMENT
GET MISCHIEVOUS WITH MAOAM THIS HALLOWEEN
As the number one top-selling SKU at Halloween*, MAOAM Stripes are sure to go down a treat with retailers and shoppers alike. Delivering a risk free treat for retailers, these delicious, individually wrapped chews can be enjoyed both during the occasion and beyond.
On a mission to cause mischief this Halloween, MAOAM is sure to be front of mind with shoppers and the go to treat this Halloween.
MAOAM Stripes is available in £1 PMP 140g pack.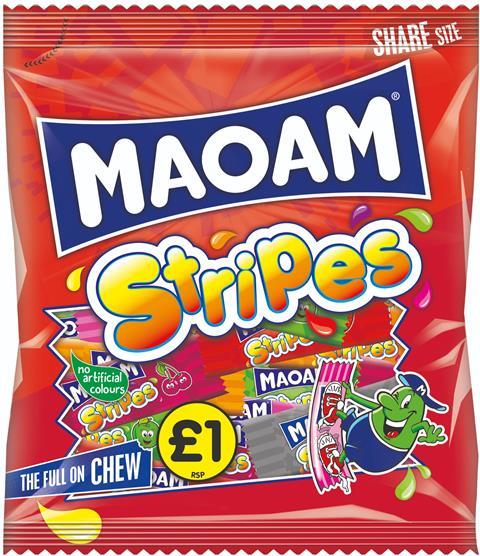 *IRI Marketplace: Total Confectionery & Halloween Viewpoint I 8 weeks I Data to 3rd November 2019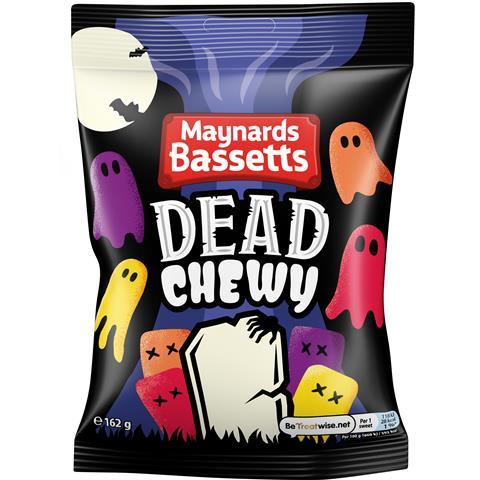 7. Chews are driving growth within sugar confectionery at Halloween
Within the candy segment, chew products grew by 7.2% last Halloween (Nielsen Scantrack Total Coverage 9w/e 02.11.19). "Chews are the third biggest format after mixes and jellies (Nielsen Scantrack Total Coverage 9w/e 02.11.19)," says Nash. This year's portfolio taps into this, with the return of Maynards Bassetts Dead Chewy.
Perfetti will also be fighting hard to get its fangs into the chews market. "Fruittella Juicy Chews bag is the No.1 selling £1 bag at Halloween, and our Chupa Chups Infernals outperform the likes of Haribo Scaremix and Tangfastricks (IRI 4 w/e 10 Nov, 19)," says Roberts.