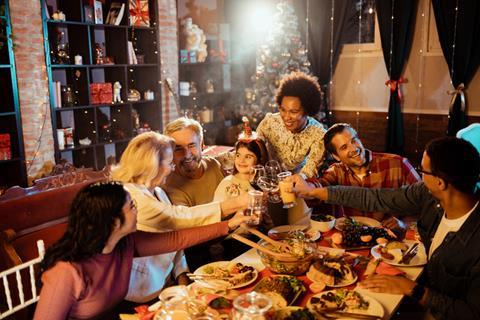 1. 38% of all Brits are planning to go out less over Christmas
Big Night In (BNI) has been one of the defining convenience store trends of 2023. Now with Santa's wallet stretched further than ever before this jingle bell season, BNI's value-for-money magic should help give soft drink sales some extra sparkle in c-stores.
In fact, the Tesco Christmas Report 2023, found that 38% of all Britons are planning to go out less over the Christmas period. And a third (33%) of 25–34-year-olds are planning to host more parties at home - a 10% increase on last year (Tesco).
"There's definitely an opportunity to sell more soft drinks at Christmas," says Richard Inglis, owner of three Welcome stores in Southampton.
"If people normally come in for Pepsi then they'll get something else too so they can give guests a choice."
Rob Yeomans, VP for commercial development at CCEP GB said: "More people in GB are planning to host get-togethers in the home this Christmas as they cut back on going out, making it a key period for retailers to drive sales with exciting activations and well-known brands like Schweppes." The firm claims that Schweppes is the number one mixer brand in the off-trade by value and volume (Nielsen) and has announced the return of its Born Social campaign, which is encouraging young adults to mingle with their friends.
Britvic agrees that the festive season is key for soft drinks sales. "Christmas provides a huge opportunity for retailers when it comes to drinks and is undoubtedly one of the biggest and most important seasons of the year for parties and events in the home," says Ben Parker, GB retail commercial director at Britvic.
"During the winter months when the weather can be unpredictable, many may opt for cosy nights in with friends and family to celebrate festive cheer, and curb spending compared with a night out. The big day itself also increases in-home consumption of soft drinks."
Parker adds that it's important to remember December isn't all about Christmas.
"Occasions like New Year's Eve and Hanukkah both fall in December, so consider offering specific promotions and Point Of Sale (POS) to take advantage of the additional footfall."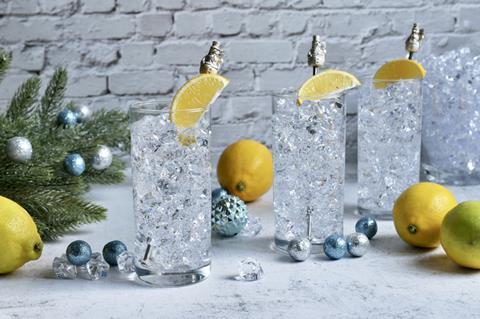 2. With gin and vodka the nation's favourite spirits – tonic consumption soars at Christmas
There may be zero football on this year – but with household budgets no longer stretching to the pub, Christmas shoppers should be visiting c-stores to stock up on party supplies. And while booze is central to the British Christmas spirit, soft drinks are also key.
"With gin and vodka the two most popular spirits in the UK, Schweppes Classic Tonic and Slimline Tonic are likely to be in high demand," says Amy Burgess, senior trade communications manager at Coca-Cola Europacific Partners (CCEP).
"But shoppers experimenting with cocktails and mixed drinks are on the lookout for more flavoured options as consumers get more adventurous with new cocktail recipes.
"Placing mixers such as Schweppes and premium soft drinks like Appletiser alongside festive snacks or meal options can drive incremental sales for those enjoying a party or sophisticated evening meal at home."
She adds that drink-ready garnishes such as lemon and lime can also be part of the drinks fixture to boost additional sales.
Richard has all bases covered in Southampton. "We see plenty of shoppers coming in for drinks like slimline tonic to mix drinks, or Appletiser when people aren't drinking alcohol," he says. "We have a selection of what we call 'adult soft drinks' which sell steadily."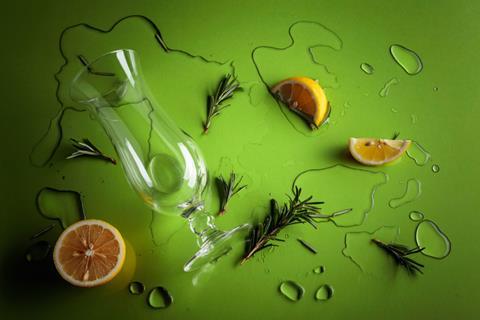 3. Symbols and indies under-trade in mixers with share dropping to 5% at Christmas
At Christmas, all credible c-stores need a core soft drink range to meet shoppers' seasonal needs. Yet Alex Lawrence, senior strategic insight director at Circana, says that shelf-space should play to convenience retailers' strengths.
"Symbols and independents under-trade in mixers, with just 7% of share of mixers in L52W [the last week of the year] which drops to 5% at Christmas. The Mixer category is in decline and symbols and independents are losing share of the category."
"As a result, the strategy for symbols and independents may not be to give range to mixers at Christmas to try and capitalise, but rather to focus on categories where [they] win, like energy and yoghurt drinks."
A glance at the stats suggests the soundness of this move. Last year symbols' and independents' share of yogurt drinks was up 10.4% overall, making them a true c-store favourite.
Meanwhile, retailers are busy seeking out other Christmas soft drink gems the mults are missing.
"What we're trying to do as a store is bring in interesting stuff that just makes us a bit different," says Richard. "So in soft drinks we've got a lot of American flavours for Christmas. For example, in Fanta we do everything from pineapple to blackcurrant. Then we have different variants of Dr Pepper – anything that's different from the usual."
He's also had success with Mogu Mogu – a Thai drink that features coconut pieces.
"It's basically a drink that you have to chew," he says. "It sounds horrible but people really like it. Again, it's adding that point of interest."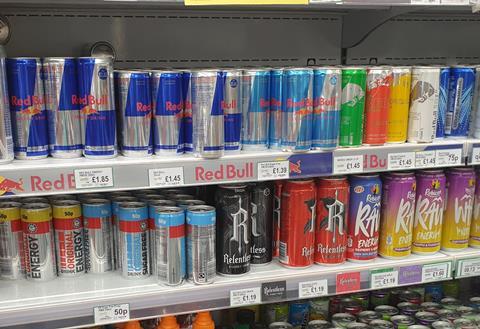 4. Energy drinks make up 17% of all soft drink sales over the festive period
For many c-stores, stimulating seasonal sales starts with energy drinks. In fact, the sub-category gains share each Christmas (+1.3pts vs 2YA) (Nielsen).
"Within the soft drinks category, Sports and Energy accounts for £817.9m [IRI]," says Adrian Hipkiss, marketing director at Boost Drinks.
"When taking a closer look into the energy sub-categories, it's Energy Stimulation drinks which play a significant role in contributing to the value growth of the Soft Drinks category, growing +15% YoY, and accounting for 26% of all Soft Drink value sales [IRI]. Boost is the only brand that is a top three in three Functional Drinks categories – Energy Stimulation, Sports Drinks and RTD Iced Coffee [IRI]."
In this fast-moving category, flavour counts. Hipkiss points out that flavours in energy now account for 38% of stimulation sales and have shown 48% growth year-on-year (IRI). To meet this market Boost launched a Lemon & Lime flavour earlier this year.
So far no brand has been brave enough to chance a spiced latte energy drink. However, for the winter Red Bull has released its first-ever limited Red Bull Winter Edition: Spiced Pear.
"For those that do not currently buy into the category, taste is a main barrier, with 17% of soft drink shoppers that do not buy Energy Drinks not doing so due to the flavour/taste [Kantar]," says a Red Bull spokesperson.
"Research shows that new flavours not only recruit new buyers, but also increases consumption by existing Energy Drink consumers, with 24% of people who do not currently buy energy drinks willing to try a new flavour and 41% of current Energy Drink users open to trying a new flavour [Mintel], delivering more buyers, more often."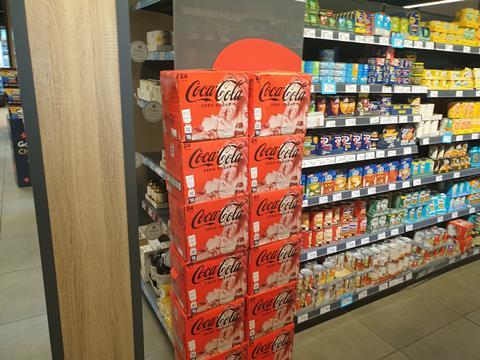 5. Put multipacks under the mistletoe
More than ever this Christmas, shoppers are going to be looking for the value that multipacks signal in c-stores.
"People are definitely feeling the pinch," says Stuart Cordner from Cordner's Spar in Belfast. "Anything you can do to help them feel like they're getting value for money is very important in soft drinks. We always have promotions on at Christmas – and the pack size matters too."
"Last year penetration of functional energy multipacks grew by +10% in December vs the average month, as shoppers traded up into higher volume packs [Kantar], making multipacks a core way to capture more shoppers at Christmas," says a Red Bull Spokesperson.
Offering bigger sizes where possible can also help spread the Christmas cheer.
"We offer a variety of pack formats to cater for different shopper needs," says Burgess.
"For those consumers who are planning nights in with friends and family over socialising outside of the home, larger formats such as our 2l sharing bottles and multipacks of carbonated soft drinks such as Pepsi Max Mango, Tango Paradise Punch and 7UP Zero play an important role."
Finally, in c-stores Christmas drinks can all too often be aimed at the adults. Parker suggests remembering the little ones as well.
"Christmas is an important time for the whole family with many consumers wanting children's soft drinks to be accessible to them too," he says.
With this in mind, Britvic's Fruit Shoot Merrylicious can be a smart solution to placate the young 'uns while the grown-ups have fun with the mixers.
Cheers!