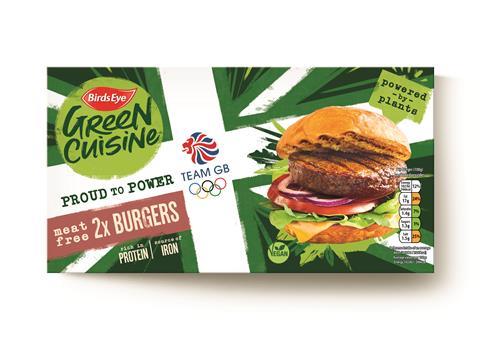 Birds Eye has revealed that its meat-free Green Cuisine brand is the official plant-based supporter of Team GB ahead of the Tokyo 2020 Olympic Games, which are set to kick-off on Friday 23rd July in 2021. The collaboration will see Birds Eye launch a new TVC tag as part of a detailed marketing campaign, which will incorporate in-store activations, on-pack promotions and social media activity with Team GB athletes.
Sarah Koppens, Birds Eye UK marketing director, said: "We are so proud to become the official plant-based partner to power Team GB. As the fastest growing frozen meat-free brand, we have a relentless ambition to demonstrate the delicious power of plants, dispelling any lingering misconceptions around the meat-free category. We conducted a quick-fire Facebook poll with a group of past and present Team GB athletes and over two-thirds said they've actively reduced their meat consumption over the past three years [Facebook poll with 56 Team GB Olympic Games athletes, past and present]. We look forward to bringing some of their stories to life throughout our campaign."
British Olympic Association commercial director, Tim Ellerton, said: "This is an exciting partnership in a really interesting area, not just in our athlete community but on a wider national scale as meat-free and plant-based diets become increasingly popular. The team at Birds Eye have some very exciting activation plans in the coming months and we're proud to support them in bringing those plans to life with the help of a variety of Team GB athletes."
The Birds Eye Green Cuisine range is now worth £17.5m [Nielsen, Total Coverage, w/e 27.02.21] in the UK. The portfolio consists of frozen meat-free versions of Birds Eye's family favourites, such as Chicken-Free Dippers, as well as a range of visible veg products such as Veggie Fingers and Veggie Burgers.