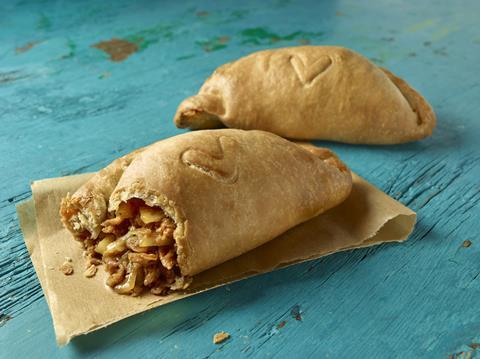 Country Choice has unveiled a raft of new additions to its range of vegan handheld savouries, hot and chilled food to go, and confectionery.
A handheld 175g steak-less bake, 175g chicken-less-bake, 283g steak-less pasty, and an 80g vegan croissant join the existing range, which includes a vegan sausage roll, sweet potato and coconut patty, and Moroccan style bean bake.
Also joining the portfolio are a selection of vegan meal components including a plant-based Cumberland sausage, spicy bean burger and Quorn vegan fishless fingers.
To help retailers merchandise the products Country Choice is also able to supply an extensive range of packaging options including a salad box with window, Vegware PLA deli round clear containers with lids, Kraft long tortilla wrap & film and sandwich wedge packs.
"Demand for vegan products continues to grow, with a four-fold increase in the number of vegans in the past five years," said Hannah Morter, marketing manager of customer insight & category management at Country Choice. "Kantar estimates that one million people took part in Veganuary in 2020, with another 10 million trying a vegan product during January, and we expect the numbers for 2021 to be even bigger. With our new vegan product range retailers can respond with a comprehensive offer that can be scaled to suit increased consumer demand."