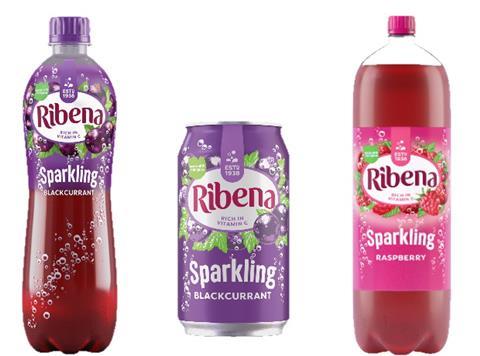 Suntory Beverage & Food GB&I (formerly Lucozade Ribena Suntory) is launching Ribena Sparkling in blackcurrant and raspberry variants across a range of impulse and take home formats.
Ribena Sparkling 500ml (rrp £1.50 or pricemarked at £1.09 or two-for-£2) and 2l (rrp £1.85 or pricemarked at £1.79) come in raspberry and blackcurrant flavours, while a 6x330ml can multipack (rrp £2.99) is available in blackcurrant only.
A sparkling Ribena range was last introduced in 2011, but was discontinued in 2014. However, the company is confident that the new range will be a success. As the number one juice drink in the UK (EXT IRI, MarketPlace GB, Value, latest 52 weeks to 29.03.2),and the fourth most popular beverage brand in the UK (YouGov August 2020), the group claims that Ribena is well placed to enter the carbs category.
"Flavoured carbonates have seen amazing growth of 7.1% recently [EXT IRI, MarketPlace GB, Value, latest 13 weeks to 26.07.20 vs YA], and they also have one of the highest penetrations of any soft drink category at 81% [Mintel CSD Report 2019]," says Charlotte Flook, head of brand, Ribena, at Suntory Beverage & Food GB&I. "Four out of five of those buyers consume flavoured carbs at least once a week [ibid].
"Blackcurrant is the seventh biggest soft drinks flavour and there is only one other mainstream raspberry-flavoured fizzy drink offering in the market. We also know that blackcurrant and raspberry flavours are 33% and 61% incremental to the category respectively [IRI MPF Database total market to 23.03.20], which demonstrates the opportunity the new drinks can offer retailers in terms of additional sales."
The introduction of a range of formats across the Ribena Sparkling drinks addresses the increasing number of occasions when shoppers are looking for carbonated soft drinks, states the firm. In-home occasions for carbonated soft drinks have grown 40% during the Covid-19 lockdown period [ibid] as shoppers embrace more 'drink later' drinks.
"More than a third of consumers are interested in added vitamins in their fizzy drinks [Mintel CSD Report 2019], making Ribena the ideal solution for those shoppers," adds Flook. "We know that during the Covid-19 lockdown period, 42% of shoppers purchased products they hadn't bought before [IRI SL Database 6wks to 3/5/20] – so retailers can really excite their customers by introducing an already strong brand into a new category, in new formats."
The launch of Ribena Sparkling will be supported by an extensive shopper activation, out-of-home and digital and social media campaign. The Ribena brand is also offering retailers an exclusive reward which can be claimed through the Shopt app. Retailers can take advantage of this one-time offer from 29th September until 27th October.