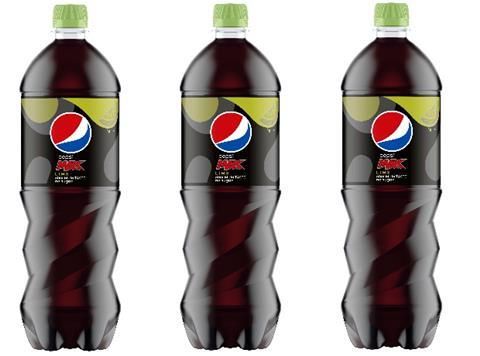 Britvic has added Pepsi Max Lime to its summer line-up to help retailers capitalise on the growing popularity of flavoured cola (Nielsen RMS – Total Coverage GB – Value & Volume Sales). The drink will initially be available from early-June as a Tesco Group exclusive – which includes Londis, One Stop, Premier, Budgens, Tesco and Booker Wholesale – before rolling out further in late August. The new flavour will roll out in 2L and 1.25L bottles, as well as in eight and 24 x multipack cans.
Cola is the number one segment within the soft drinks category (ibid), with flavoured cola growing ahead of other segments, up +6.5% versus last year (Nielsen RMS – Total Coverage GB – Value sales). Britvic says that sugar free choices are of particular importance in cola segment, having grown +15.2% in the last two years (ibid). The firm claims that lime was voted the number one flavour for refreshment in consumer taste tests (Consumer Taste preference panelling study, 2019).
Pepsi Max Raspberry, which launched in 2019, has already become a £20m+ flavour extension (Nielsen ScanTrack, Total Coverage value sales). Pepsi Max Lime aims to build on this proven success as part of the three-strong flavoured cola range which also includes Cherry.