Coca-Cola European Partners (CCEP) has broadened its light colas portfolio with the launch of Diet Coke Sublime Lime.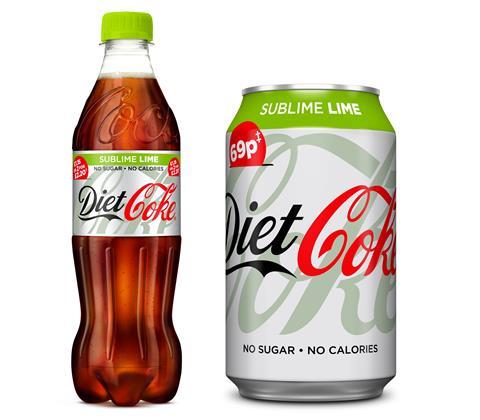 The flavoured cola segment is worth £227m and is growing by 11%, while lime is the third most liked soft drink flavour in Britain, CCEP reports. The new variant is available in 330ml and 500ml packs for on-the-go occasions, plus 1.25l and 2l take-home bottles. Pricemarks are 69p for the cans, and £1.15 or '2 for £2.20' on the 500ml bottles.
The launch will be backed by a multi-million pound marketing campaign that will raise awareness of Diet Coke Sublime Lime and Diet Coke Twisted Strawberry flavoured variants. The campaign will include TV, digital and outdoor advertising, plus widespread sampling activity.
Diet Coke Twisted Strawberry, launched in 2019, has already achieved annual sales worth £8m.
Simon Harrison, vice president commercial development at Coca-Cola European Partners GB, said: "Diet Coke is the biggest light cola brand in GB and our flavoured cola innovations helped to drive 57% of on-the-go cola NPD value growth last year. Our flavoured colas are now worth more than £102m, making 2020 the perfect time to innovate and offer our consumers a brand-new experience.
"Combining the popularity of Diet Coke and growing demand for both flavoured and low sugar carbonates, Diet Coke Sublime Lime presents a fantastic opportunity for retailers to maximise their soft drinks sales."