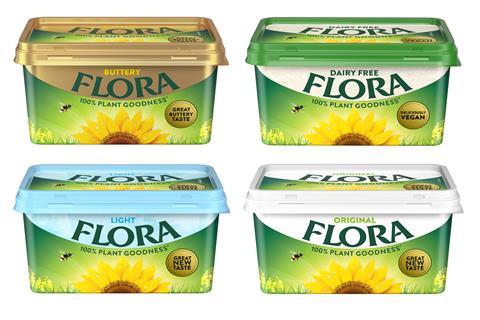 Flora is reformulating its portfolio of spreads with the introduction of a new plant-based recipe.
Available across all channels from 18 March, the brand relaunch is designed to appeal to both families and those following a plant-based diet.
The updated Flora recipe is made using 100% plant-based ingredients and features no preservatives, artificial colours or flavours. The reformulated range is also vegan society approved and the products' new pack design focuses on brand heritage and increased shelf stand-out
Available in four variants: Original; Light; Buttery; and Dairy Free, the relaunched Flora comes in three tub formats: 250g (rrp £1.20); 500g (rrp £1.99) and 1kg (rrp £3.60).
The national relaunch of the brand will be supported by initial PR and social media activity, followed by a new TV campaign kicking off later this year.
Steven Hermiston, UK & Ireland general manager at brand owner Upfield, said: "Health and well-being has never been so important to consumers, people care more about what goes into the products they are feeding themselves and their families, but they are not prepared to compromise on taste – and they shouldn't have to.
"With a great new recipe making Flora more delicious than ever, our new 100% plant goodness range can be enjoyed by the whole family. Plant-based nutrition is at the heart of the Upfield business and Flora, with its plant goodness, is set to lead the charge and marks a key moment for us and the wider category."