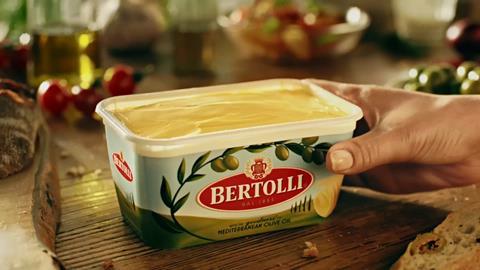 Bertolli is returning to TV screens across the UK for the first time in over five years, with a new ad for its olive oil butter.
The activity is part of a £5m marketing campaign and includes support and investment from the brand's new owner Upfield - following its acquisition last year.
Steven Hermiston, general manager for UK and Ireland at Upfield, said: "Bertolli is a unique product in the UK market, with the goodness of olive oil ingredients and a strong sense of Italian heritage helping it to stand out in the crowd.
"Bertolli is - and always has been - made with passion, and we feel that consumers will be able to grasp that joy through the TV ad. This large-scale investment also represents the renewed passion that we're injecting into the brand under the new, focussed direction of Upfield. We're looking forward to taking this brand to new heights."
The TV ad will run throughout March and April and again for a second burst later in the year. The activity will also run on video-on-demand services All 4 and ITV Hub, while short-form videos have also been created to appear on digital platforms.
Bertolli Original is available in 250g, 500g, and 1Kk tubs - and is also available in Bertolli Light and Bertolli with Butter variants.