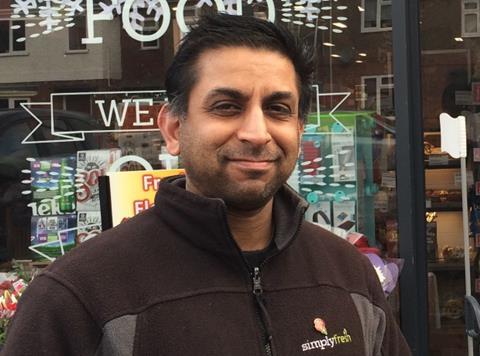 St John's Budgens in Warwickshire is broadening its product offer as owner Avtar 'Sid' Sidhu aims to appeal to a wider audience
Sid has made a raft of updates to his Kenilworth store in recent months. "I'm a solution provider," he explains. "I genuinely thought it was the right time to reinvest in your business. All the customers will see the next level and it will stand us in good stead to retain new customers, whilst also benefiting existing customers."
Diversifying into different areas is essential, he claims. "You need to look at your business and attract different parts of community and neighbourhoods," he says. "Not everyone wants the same thing. We need to stay relevant.
"If you look at butchers, bakeries, post offices, vape stores, card shops etc, slowly these stand alone specialist industries are falling by the wayside and it's because supermarkets have led the way and people are expecting you to have this stuff in. It's not us driving the change, it's the consumer."
Here are some of the changes he has made:
1. Chilled food
Chilled food was already a big focus at the 2,000sq ft store, which boasted 25m of refrigeration. But Sid wants to make the most of the home cooking trend and also show customers that they can get everything under one roof. "Because our chilled sales are so strong we feel we need more space," he says. "We've added another 2.5m unit costing £5,000. Basically, the real big wins will be fruit and vegetables, fresh meats and ready meals."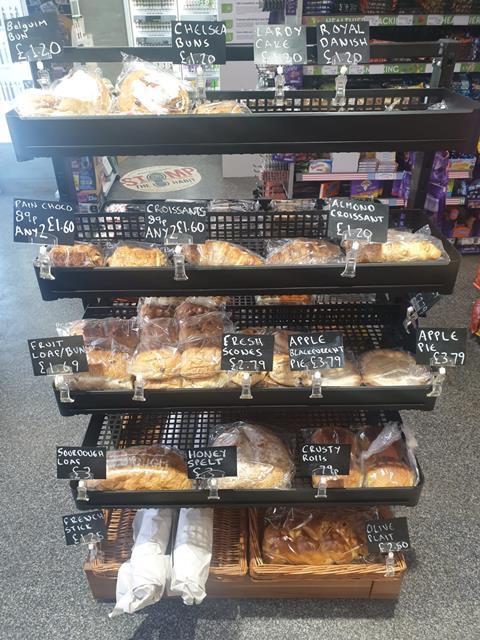 2. Bakery
Having previously had a small bakery table, he has decided to make local cakes more of a focal point, investing £500, plus VAT in a cake table. "We have 11 shelves full of cakes and we've given a bay to Andrew Davis, who runs the local bakery 500 yards away. His sales were 40% down because he supplied hospitality - hotels and events, so he needed the support."
So far, the bakery offering has been a major success. "Andrew's sweets are the best sellers, but we get everything from quiche fruit pies, strawberry tarts to sausage rolls and pasties," says Sid. "We sell more of certain lines in our store than he does in his store in town!"
The area is turning over £7-800 a week. "We have it stocked with over £500 worth of cakes and it's taken a good hit. That was my goal for that space - £500 a week wholesale. To be fair we've had quite a bit of wastage from it, but it's positive waste. It's slowly building up to the future growth of sales."
He has also seen success with bakery lines via his home delivery platform. "We've added those lines to Snappy Shopper - party platters and large round cakes on a two for £10 offer, which has been a big hit," he says. "It's only going to grow by keeping marketing it."
3. CBD
On the strength of his current CBD lines, he's set to install a coffee machine, which makes standard and CBD-infused coffee. "The CBD is really starting to take hold here, every week sales are going up," says Sid. "We do a little jar of honey for £27.99. We even sell CBD beer here and that's been a huge hit. We initially ordered six cases and sold out straight away."
He is confident that the category will take off, provided it is not held back by legislation. "CBD is still in its infancy," he says. "It has all the hallmarks of being really big in this country. The deciding factor will be the government and legislation. If it's left in its current form there's a strong market for it for medicinal purposes." He concedes that introducing a coffee machine is a gamble. "The coffee is an interesting one. No one else is doing it, maybe it's an opportunity. It's a complete stab in the dark - will it won't it!?"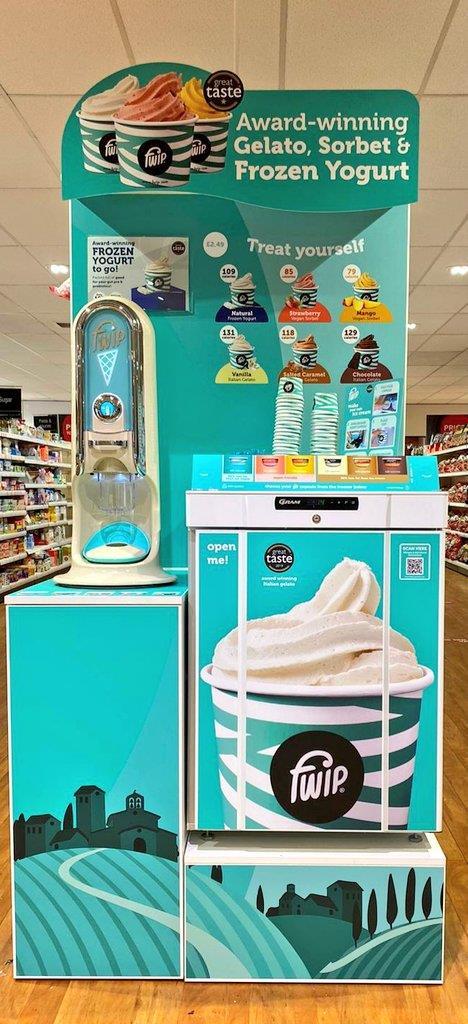 4. Desserts
The shop installed a Fwip machine over the summer, which makes frozen yogurt, gelato and vegan sorbets. "I have Tango Ice Blast, I've got coffee. This is more of a dessert option," says Sid. "It launched with a special price of £1.99, but with or without that it's been selling extremely well. We saw massive uplifts when the temperature rose. The machine is £1950 plus VAT and they will give you £2,000 worth of stock to cover costs, so it's a stock neutral deal. We re-ordered three times in the first couple of weeks."
The store continues to promote the ice creams, despite the colder weather, recently encouraging customers to have a Fwipping Halloween. "People want to treat themselves more often," says Sid. He has also spent a further £2,000 on a stand alone slush machine.
5. Cooking Sauces
Following strong sales from a world foods supplier, which unfortunately ceased trading, Sid knew there was demand for products from authentic small suppliers. So when Northampton-based Punjaban contacted Sid about listing its curry sauces, Sid asked the company to make a stand to showcase the products and make a real feature out of them. "It's these local or niche products that need to be elevated," he says. "That's how you best present it and execute it for the consumer. You can't just plonk them on the shelf and expect them to do well. You do a disjustice to these products by putting them in without any thought process.
"We bought a lot of stock - a pallet's worth. People have time on their hands at home all day so there's a lot of cooking going on. We sell sauces at £2.99 each or two for £5. We put them right by the produce and meats - it's the perfect location."
6. Vaping
Sid installed an in-store vaping shop in partnership with Aquavape at the end of last year, but he's recently given it a revamp. "We've just introduced the latest kits and hardware," he says. "On the liquids side we have a bigger range of nicotine salt liquids. We had four shelves before, but because of the menthol ban and the growing need we have extra shelves in for that."
He has also removed a more premium line, which he feels isn't right for his customer base. "We had bottles of liquid at £14.99 each - high end stuff from Malaysia," he explains. "We did ok with it, but it will have a finite audience because it's so expensive. So we've removed them." He has upgraded his touch screens too. "We're adding a new facility with an enlarged range available on the screen and the customer can order anything they want and it gets delivered to store the next day."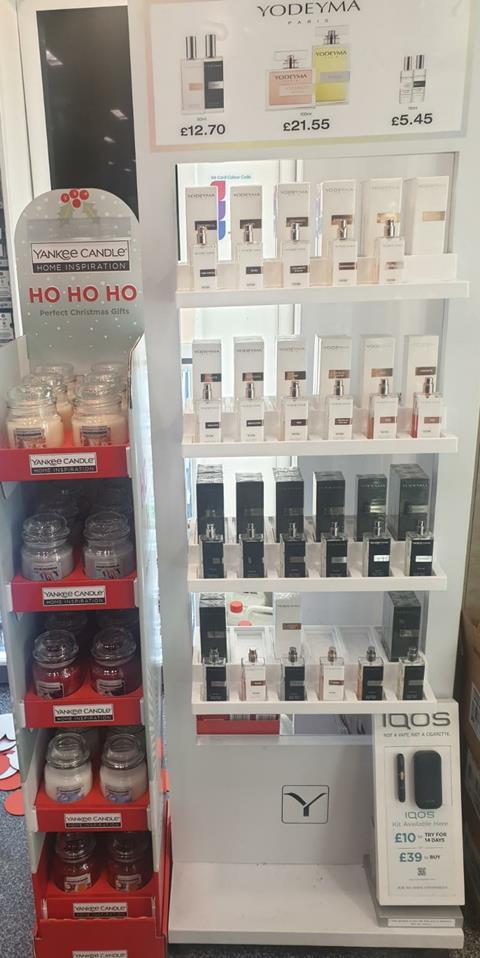 7. Perfume
A Yodeyma eau de parfum display is the latest addition to the shopfloor. "We've brought them in on trial - they're perfect for Christmas," says Sid. "It's quite a small footprint, the stand is about 45cm wide by 25cm deep, but it showcases the products really well. Samples are all free, so no cost to you.
"Perfumes is a no brainer, it's a new string to your bow. It's sale or return, so you only pay for what you sell. You get a 120 day free trial. You make 40% margins - in our industry that's a good number."
The scents bear similarities with major brands, but at more affordable prices (between £12.70 and £21.55). "The timing is interesting, people are so conscious of cost and if you can get the same product at less than half the price of a big brand, it's all about the smell," states Sid. "We have a leaflet customers can refer to, there are 32 different scents for male and female. It's been doing really well. One lady bought three in one go, she spent £38 extra sales I wouldn't have got otherwise."
8. Candles
Sid may have stayed away from designer perfumes, but when it came to candles, he opted to stock top-selling brand Yankee. "We've gone direct to Yankee Candles," he says. "They have produced a custom-built stand - it's a small footprint, perfect for convenience. They've sold really well. I sold six on the first day of stocking them."
He stocks the top five best-selling scents, claiming that people buy them for both gifting and personal use. "People will buy different ones depending on their mood and for different spaces." He has no qualms about stocking a relatively small range, claiming that the most popular scents make up the majority of Yankee's sales. "If that represents 60% of all the sales they do, then let's forget the 40%."
Originally, he was planning to stock votives (smaller candles) too. "The price point is very convenience happy (£1.50) so they sound really good," he says. But he decided to stick with just the larger size given that the weather is getting colder. "We specifically went for the larger ones, selling them at £10 or two for £18, purely because we're heading into winter," he says.