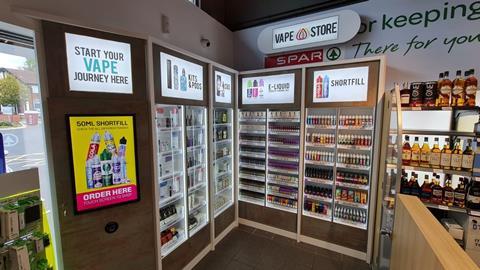 Vaping has captured the imagination of convenience retailers and more are investing in this area. Located in Bolton, Spar Rocket is no exception.
Owner Baz Jethwa recently installed a 6m vaping display that he hopes will wow customers.
Baz says that although the store has sold vaping products since it opened in 2017, he wasn't quite happy with previous suppliers. "They were letting us down and it was becoming complicated. We wanted to deal with someone who could offer support and good advice for the category. We consulted with a few but we really liked Aquavape who are also based in Bolton."
He explains what set them apart from the others. "The after-sales support is great, they've been to visit lots already. Also, the range we have is 40% Aquavape products but we buy the rest through them as well so it's only one invoice to deal with. Previously we've had to work five or six suppliers for vaping at the same time and that takes up too much of our time."
To make space for the new vaping area, Baz had to make some changes to his store but says he didn't have to sacrifice too much from other categories. "We had a manager's office on the shop floor that we removed and a 1.2m tobacco gantry that we transferred to drawers under the counter. That made more than enough space for the area and we also gained another shelf for spirits in the process."
Check out our new instore VapeShop by #aquavape its a total #gamechanger bringing vaping to #convenienceretail #vaping #happycustomer #CBD pic.twitter.com/Dm09sbEnlK

— Spar Rocket (@SparRocket) September 11, 2020
With 50%-plus margins on vaping, it wasn't a difficult decision to shift tobacco but Baz insists that cigarettes still have a place in store. "Before lockdown they were in decline but since then they've been up 10% year-on-year. I think that's down to a drop in the illicit trade during lockdown. We've just moved them to a more sensible position, particularly as ranges have been cut back."
He is enthusiastic about the future of the vaping category, having made the joint investment in the space with Aquavape. "We could have installed 8m of vaping but we kept it at 6m to see how it performs. We can grow it if the business is there."
Based on his first weekend's performance, the business is certainly there. Previously, the category sales were between £400 and £500 per week, on the first three days of the new area, it took around £1,000. Baz says customer reaction has been phenomenal with shoppers praising it. He's been doing some local marketing of the new area but says he'll ramp it up in the coming weeks as it settles in.
"We're lucky that we don't have any serious competition nearby for vaping so we can go big on this category. It's going to be a big USP for us and drive visits to our store."
For retailers considering investing heavily in vaping, Baz offers up some advice. "Pick a supplier with good after-sales support. Aquavape is going to come and refresh the range every four weeks, I've had suppliers in past that we never hear from again. Also, ask what other brands a supplier stocks besides their own, we get all our stock from one supplier and it makes things so much easier."
Considering an investment in vaping? Let us know at aidan.fortune@wrbm.com.