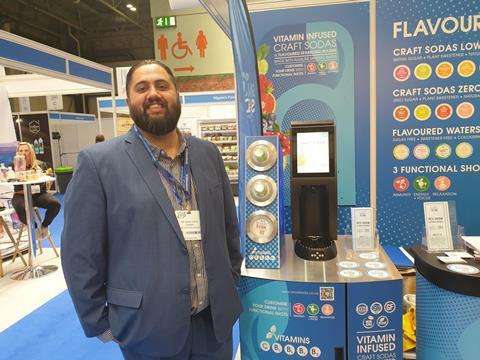 Coventry-based Aman Uppal is set to trial Smart Soda UK's new healthier drinks dispenser at One Stop Mount Nod in Coventry, following the machine's launch at the National Convenience Show earlier this week.
The Juli Touch + POD machine, which is operated via a touchscreen display, allows customers to choose from an array of flavoured sparkling alkaline waters and sodas, which are either zero sugar or low sugar containing plant-based sweetener stevia.
Once a customer has selected their drink, they can choose a functional vitamin shot to be added from a choice of Energy & Focus, Immunity and Relaxation.
The innovative machine has already proved a smash hit in America with dispensers in 7-Eleven retail convenience stores across the United States.
And Smart Soda UK is hoping to echo this success by working closely with Aman, who the company got in touch with via The Association of Convenience Stores. The leading convenience retailer, who is well known for his love of technology and cutting edge ideas, has offered the firm advice on how to approach the market.
"It's been a six month relationship," says Aman. "That's why I feel vested in it. I'm honoured that they wanted to speak to me and valued my opinion. I was adamant that the drink had to be below the £2 price point because people aren't going to perceive this as being a slush. Carbonated slush is £3.50-£4 and milkshakes too, but this still gives us 60-70% margin. Pricewise, it is at the top end but it's because of the technology that's there and they're off-setting it with a good package with free stock. Once people get used to seeing it they're going to be intrigued. I've put up videos on social media to tease them."
Here he explains why he is so keen to trial the machine:
The unit can dispense seven flavours, plus the three functional shots and there is a broad choice of drink and flavour options for retailers to choose from:
Low sugar craft sodas available in: Pink Raspberry, Crisp Apple, Orange Crush, Zingy Ginger Beer and Smart Cola flavours

Zero sugar craft sodas sweetened with stevia available in: Smart Cola, Lemon Lime, Strawberry Watermelon and Cherry Vanilla flavours

Zero sugar, sweetener-free flavoured waters in Tropical Mango, Mixed Very Berry, Cool Cucumber Mint and Wild Elderflower
The unit is available on a monthly lease of £349.50 and each flavour is priced at £29.50 for a 5l container, while the functional shots are £49.50.
A 330ml soda or water has an rrp from £1.50, while a 500ml cup is from £1.95.
Further details are available here.
Here's the machine in action: