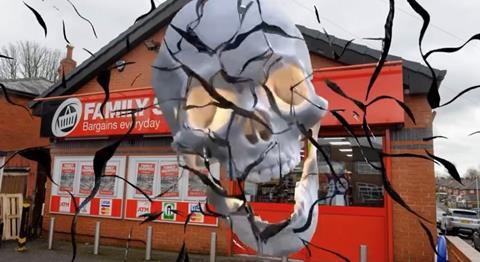 Family Shopper Broadoak has teased customers with its Halloween plans in a series of videos posted on social media.
Owner Mos Patel told ConvenienceStore.co.uk: "We're normally always busy for Halloween, but because of the situation last year, we just wanted to make a big deal out of it with a display and lots of props that we keep adding to."
He says the shop has about 15 props, most of which feature in its Halloween video.

"We've been running the marketing team for about a year now," said Mos. "And we send them across pictures and footage and they'll turn it into a fun video for us. So this one with the props and characters dancing is actually to promote the party we're having on Sunday for the community.
There will be a DJ, we're going to have figures, a bouncy castle, snacks, pizza, drinks, dancing competitions… and we're charging a pound for entry. Then whatever we get from that - normally we do it free - but this time we're going to buy ingredients and give it to the local food bank."
Offers will also be running on multipacks of crisps, sweets and chocolates to tap into trick or treating.
Mos added: "It's just nice for people to feel something, like the shop is doing something for them, rather than everyday being the same. We just want to make things a bit more fun for everybody."