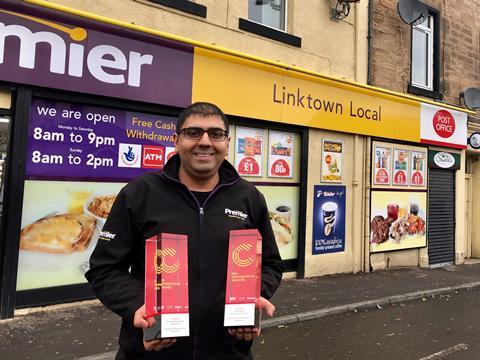 Premier Linktown Local, Kirkcaldy did the double at The Convenience Awards 2020, picking up the top prize in the Best Small Store and Best Community Retailer categories.
We caught up with owner Faraz Iqbal about how winning has helped others take independents more seriously.
"Day-to-day it's not something that we dwell on but when it's appropriate it's great to be able to say you've achieved something like this. It's a great addition to a social media post and you can say you are the Best Small Store in the UK.
"Even when you're speaking to suppliers, it helps the conversation. There are times when the relationship between suppliers and independents don't go that well but when you have an accolade like this, they take you a bit more seriously and highlights the calibre of store they're dealing with."
He explains how winning the two awards has helped the entire team and how they use it in conversations with customers. "To be up against everyone and win, is a great achievement for us and a tremendous morale booster," says Faraz. "We mention it whenever possible on social media posts and we've got a banner outside the store. We try not to make the posts directly about winning awards but rather mention as part of the conversation. It gives potential customers a sense of credibility and shows we're serious."
While it may mean a lot to the staff, do customers notice? "Customers do care and they do comment on the posts. When we won the award, loads of our customers told us we'd earned it."
Faraz says that while he's honoured to have won and is glad he entered, he and the team do what they do because of personal pride. "I don't compete and we do our own thing. We work well in our community and just get on with it and it's great to be recognised for it. We're continually working this way and looking to improve rather than set out to win awards."
If you think you could make a big impact by winning Best Small Store or you're a community champion, The Convenience Awards 2021, brought to you by ConvenienceStore.co.uk, The Grocer and Lumina Intelligence, are now accepting entries. Enter here now.