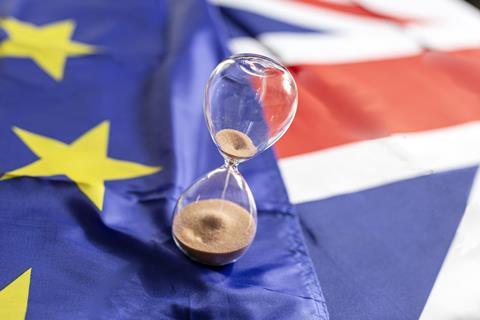 Retailers have been urged to speak to their symbol groups and wholesalers now to discuss preparations for the UK's EU Exit at the end of the year.
On 31 December 2020, the transition period will end and cannot be extended. While trade talks between the UK and the EU continue, lack of progress means that the UK's trade with the EU would change to a World Trade Organisation situation with tariffs in place. But what does this mean for independent retailers, prices and their customers?
In an Association of Convenience Stores (ACS) webinar on the issue, Preparing for EU Exit: what it means for convenience retailers, experts discussed what retailers can do to help lessen the impact.
IGD chief economist James Walton warned of the seriousness of the situation. "There is a concern that if we have more stock issues as a result of EU exit, could the availability issues [seen during the early stages of lockdown] be repeated?
"EU Exit as an agenda has moved on with the Prime Minister warning that we should assume there is going to be a no deal situation. A no deal also increases the likelihood that we're going to see adverse effects from exit within our supply chain in the form of increased costs and in some cases poorer availability. Food and drink would be particularly affected by a no deal situation. The cost is quite hard to calculate but could be significant.
Citing research conducted by the London School of Economics on behalf of Arla, Walton broke down the potential price changes. "For example, for unbranded fruit, the cost would be an additional 3% with a trade deal and 10% with no deal. And because food and drink businesses operate on such thin margins, it would be difficult for them to absorb these additional costs in the supply chain and are likely to be passed onto the consumer."
Walton outlined five ways retailers can prepare:
Stock building may give some security but it is hard to do particularly around Christmas
Alternative suppliers
Flexible on range and promotions
Talk about EU Exit to your suppliers and wholesalers
Advocacy: speak to trade associations like the ACS
"Consumers will respond earlier than the end of the year, especially around stockpiling."
ACS government relations director Edward Woodall warned retailers not to get too fixated on the 31 December end of transition date.
"There's a danger that we think that one of the certainties in this is the timeframe but actually the implications of when we leave and consumer response is going to be very different. I think consumers will respond earlier than the end of the year, especially around stockpiling and the impact on the supply chain will lag a little bit after that. Let's not just focus on that one date but how it all maps out over a longer period."
He advised retailers to communicate with all parts of the supply chain. "A lot of concern from retailers about the uncertainty and they're looking up the supply chain for reassurance around planning scenarios. The worst situation we can get into is where we stop communicating. It's all in our economic interest to be prepared."
With price rises a concern heading into EU Exit, Woodall suggested retailers to start speaking to customers now so there's not a shock in the New Year.
"First of all, we need to familiarise ourselves with the tariffs and which products are most likely to be impacted. It's also down to retailers to communicate to their customers about the products that will be impacted and the price differences at the earliest possible opportunity without sparking off panic."
Chief executive of Food and Drink Federation Scotland David Thomson outlined some of the categories that will be hit. "Animal and plant products are the areas where there will be an additional burden on manufacturers and the supply chain.
"Products with a short shelf life will also be impacted- if there are delays on any border, any of those items will be at risk."
Northern Ireland dilemma
Thomson also warned that Northern Irish retailers may struggle. "We think there are significant issues for Northern Ireland retailers. There are issues for those importing into Northern Ireland which will be difficult to deal with. For many of our members, they've expressed significant concerns about trading into Northern Ireland until the dust settles with dual legislations."
Walton said retailers may have to reassess their offering to cope. "We've got to recognise that a lot of shoppers are going to start 2021 in a very hard place. They'll be contending with low wage growth, inflation and possibly redundancy, and an enormous sense of fear. That will determine what happens in convenience and I think stores may need to move towards lower priced basic and away from premium products and maybe even away from meal solutions completely in terms of giving a better priced value basket to shoppers. As we look further ahead, there will be opportunities out there as well such as working from home and meshing with online."
Woodall also suggested a list of questions a retailer should be asking their symbol group or wholesaler:
Planning scenarios for different timeframes, the Christmas period and directly after.
How they're handling the conversations up the supply chain
Important to think about regionality, the impact on areas like Kent could be massive and if you're based in those areas, you need to be asking questions of your wholesaler about how you're going to get that supply in.
Ask what product lines are expected to be impacted
Also help around plans to communicate changes to customers.