Giving shoppers space to acclimatise to your store can breathe fresh life into your business. C-Store looks at how less can be so much more in store design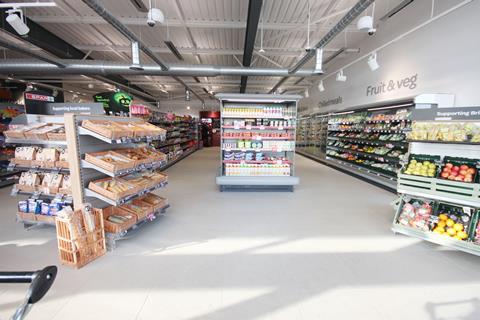 Meet Jane, busy working mother of two, careering through the doors of your store, intent on a quick crowd-pleasing dinner for tonight and a few other key essentials before she has to leave for the school pick-up, and preferably before baby Jack gets to the bottom of his fruit pouch.
While the rest of Jane's day will likely pass in a blur, there is one simple, but powerful piece of design trickery that you can implement to ensure that her experience while she is in your store is calm, controlled and less chaotic, and as such one she'll be inclined to repeat time and again.
If you get it right, she should even be disposed to stray from her mission and pick up an indulgent treat or two for herself. Those locally-made salted caramel pecan brownies with the premium price-tag would be just the ticket.
The idea is rooted in space planning, and the increasingly popular design principle of giving up key shop floor space to create so-called 'decompression zones'.
These zones, located principally at a store's entrance, do exactly what they say on the tin. Rather than hitting shoppers with a technicolour slap of promotional POS and walls of stock upon entry, a successful decompression zone should encourage your customers to slow down, breathe and make a calm and contented transition from the outside world into the new retail space they have just entered.
The space also provides the room for shoppers to 'decompress' around each other, without being jostled or barged by fellow customers, or feeling the need to pass by quickly, so as to let other people through.
Lucy Jordon, marketing manager of shopfitting experts The Jordon Group, elaborates: "Consumers are continually pushed for time and are very distracted by external influences such as emails, text messages, social media updates, their kids, so the competition for consumers' attention is more crucial than ever.
"When a shopper enters a store, retailers need to change their mindset to a calmer state, allowing them to have a more positive shopping experience and, ultimately, spend more. That is why the decompression zone is so important, to allow the consumer to adjust from the outside 'noise' and focus on the actual shopping experience without distraction."
Rocky Leach, owner of Spar Chellow Heights in Bradford, believes the 129sq ft decompression zone is vital, given the store's forecourt format. He says: "Our store being a service station is incredibly busy so having that extra space at the front is especially crucial as it means that shoppers have the space to move around each other and don't feel crowded as they enter, and can get their bearings."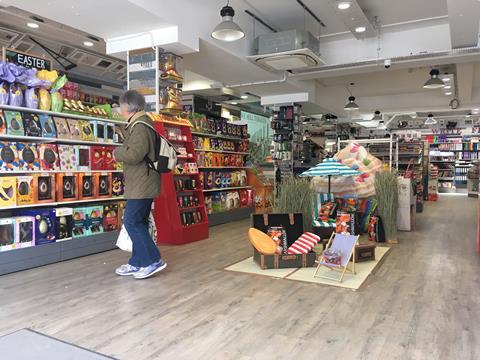 Independent retailer David Worlsford, owner of Farrants in Cobham, Surrey, is such an advocate of the decompression zone that he hasn't got just one, but two.
"We have two decompression zones: a large clear space right at the entrance; and we have also created another zone, of about 20sq ft, just off to the right-hand side of the entrance.
"Our store isn't a traditional CTN, we also specialise in e-cigs, cigars, stationery and, increasingly, kids' toys and 'craze' products. Giving shoppers that space to stop, decompress and look around so that they can take it all in upon entry is so important."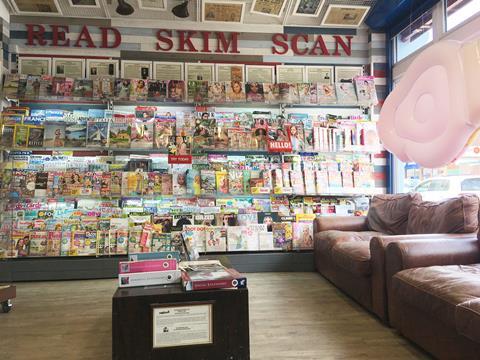 David, who comes from a proud retailing background, understands the initial caution that some retailers may feel when first hearing about the decompression concept.
"Previous generations of retailers, and many trading today, would probably baulk at the idea of giving over potential shelf space to seemingly thin air. My father would probably have said something along the lines of: 'You can't sell floor, so why am I seeing it? Fill it with stock!' But I think that we've been vindicated in our decision."
"Shoppers need the space to see your message properly," David adds. "It helps to create an almost subconscious sense of calm; they aren't rushing to get out of the way of other shoppers, they can take their time and get their bearings, which ultimately makes them more receptive to any promotions and unique selling points that you have."
Making an entrance
David's not alone in extolling the benefits of creating decompression zones. At the start of the year Sid Sidhu, owner of Budgens Kenilworth in Warwickshire, took the decision to create a decompression zone at the entrance to his 2,000sq ft store, rationalising news and magazines and canned groceries to such an extent that he was able to remove two whole bays.
Sid's zone is 13ft long and 23ft wide, but the secret, he says, is for retailers not to think about it in terms of losing something (selling space), but in terms of adding something extra. "In effect that extra floor space is helping you sell the whole store," he points out.
According to Paco Underhill, retail expert and author of Why We Buy, "more often than not, the majority of products placed right by the store entrance are largely ignored and often forgotten about," as they are already behind the customer by the time they are ready to receive information and interact with product.
Jordon agrees: "If a decompression zone is done correctly the consumer will not notice it at all and it can yield positive results in terms of turnover."
Sid certainly concurs with that. Business is booming and while this can't all be attributed to the new decompression zone, the extra space has without a doubt created a more pleasant ambience.
"It was absolutely a good idea and has totally changed the feel of the store," he adds. "When customers come in they now instantly feel comfortable, they can stop briefly, look around and take in their surroundings without feeling that they are in the way and need to move on.
"Promotions and special offers stand out more, which is important as they are crucial, but shoppers don't want to be hit by them straight away. If the space allows it, shoppers will browse for longer and then that can translate into bigger basket spend.
"These subliminal factors play such an important role in the current climate. As a retailer I hate the phrase 'distress shopping' used with reference to convenience. What we are doing is the total opposite of that.
"I don't want my store to be a place where people come just because they are desperate; I want them to come because we offer a pleasant and personable experience."
Feeling the benefit
Independent retailer Ramesh Shingadia opted for a decompression zone, approximately 14ft wide by 12ft deep, at the front of his family's recently refurbished Budgens store in Southwater, West Sussex. He says he, too, has noticed the benefits.
"If you just take the time to stand and observe how your shoppers enter your store it's immediately obvious just how beneficial that free space is," he says.
"Shoppers tend to enter at quite a fast pace, but as soon as they pass through the doors, walk across the mat – which has a noticeably different texture from the outside pavement – and enter the decompression zone, they visibly slow down.
"Their gait changes completely. Like planes on landing strips, they hit the store at speed then slow to a stop and take in their surroundings. The space allows them to breathe, look around at luxury, before allowing them to think more clearly about their shopping mission.
"It's all subconscious, but the last thing shoppers want is to be hit by a wall of promotions and stock at that point."
Ramesh says it creates a calmer, more relaxed shopping experience and makes shoppers instantly more open to browsing and, hopefully, larger basket spends.
Where to start
So you like the concept, but how do you go about creating a successful decompression zone in your store?
It's definitely worth taking the time to plan it as, while the concept is simple, executing it successfully requires a little more effort than just shunting stock to the sides.
There's an art to creating a successful decompression zone, a careful crafting which includes the removal of some key elements, and addition of others. If you get it right, the zone should calm shoppers and subconsciously make them more receptive to your store and your range, and get their spending juices flowing as it were.
Getting it wrong, Jordon warns, "can have a negative effect on the retailer's bottom line".
"You do have to be careful when designing in a decompression zone," David echoes. "In some stores, particularly the larger multiples, badly planned or managed decompression zones often just look like big, empty forgotten spaces, or like the store hasn't got enough stock.
"That is totally not the point and probably completely counter-intuitive, putting shoppers off your store before they've even begun," he adds.
Ramesh advises retailers to start by simply watching their shoppers as they enter the store, in a bid to work out where the zone should lie.
The size of the zone should obviously be reflective of the total store size, and it doesn't need to be huge in order to be effective.
Jordon advises that a successful zone should "be a minimum of 4sq ft and be scaled up accordingly with the store size".
Moving stock out of the zone is obviously key, but other elements should also be removed in order to create a sense of peace. "The decompression zone should be calm, and void of merchandise, promotion, signage and staff," Jordon adds.
And it's not all about taking things away. Other sensory elements, such as lighting, texture (from floor mats or coverings) even smell can be added to the zone in a bid to create an instantly different feel to the street outside. At Spar Chellow Heights in Bradford, porcelain flooring gives the sensory difference of walking from the outside concrete floor into a different environment.
"This will subconsciously give the consumer the time and space to adjust to the store and allow them to focus on their shopping," Jordon explains.
It's also a good idea to create one attractive display at the edge of the zone that draws shoppers in and sets the tone for what lies beyond, as a visual appetiser.
On the day that Convenience Store visited Farrants in Cobham, David and the team had created a small summer display at the end of his first zone, featuring BBQ coal and kids' paddling pools.
"Displays need to have an impact, to help put shoppers into the right mindset, but they don't need to scream at them," he says.
"For that reason I find bunting can be a really powerful display tool. Simple pink bunting for Mother's Day, yellow for Easter and blue for Father's Day creates an instant and visually pleasing promotional cue, but it doesn't make a shed-load of noise. It's delicately done, but very effective."
David is certainly convinced, as are a growing number of others. So if you're looking for a simple and cost-effective way to re-animate your business, maybe it's time you entered the decompression zone. Jane would certainly thank you for it.
Top five rules of creating a decompression zone
The decompression zone is most often the first space a customer enters when they step into your store. A well-designed zone should calm shoppers and help to prepare them for what lies ahead, encouraging them to focus and be more open to browsing.
A good decompression zone:
Provides a wide, welcoming, open space, that's free from stock and distractions
Allows easy entrance into the store so that fellow customers don't bump into each other
Features lighting, flooring, textures and materials specifically chosen to contrast with the environment outside
Has one clear, strong visual display at the edge of the zone which draws the eye into the space and shop beyond. Flower and fresh produce displays, or attractive seasonal items, work well
A larger store might have multiple decompression zones from one area to another.