Rising food prices, ever-increasing employment costs and Brexit-related economic uncertainty are some of the hurdles facing independent convenience store retailers in 2017. But store owners can rise to these challenges by investing in technology and capitalising on the latest shopper trends, such as food to go, delivery services and Free From products, according to leading industry figures
Cost pressures expected to push up prices
James Lowman, chief executive, Association of Convenience Stores
"Over the past year, the convenience sector has continued to show strong growth, and as the retail market changes at a rapid pace, it's clear that the right convenience offer is becoming more and more relevant to people's lives. Figures from our 2016 Local Shop Report show that there are now 50,095 stores in the UK, providing an essential service to their communities. There has also been significant investment in stores across the UK, with more than £800m invested in businesses over the past year alone.
As we look ahead, the main ongoing challenge for the sector across the UK will be rising employment costs. The impact of former Chancellor George Osborne's National Living Wage is already being felt by retailers, with many looking at delaying expansion plans and scaling back staff hours to cope with the £7.20 rate. The planned increase to £7.50 in April will put further pressure on businesses to cut back. We will continue to campaign for the Low Pay Commission to be allowed to set the rates of the National Minimum Wage and National Living Wage in accordance with what the business community can afford without any adverse effects, and free of any political pressure from MPs.
The research that we've undertaken with retailers on Brexit suggests that it's still too early to tell what the impact is going to be. The majority of retailers that we surveyed in both August and November didn't have a view on the impact that leaving the European Union was going to have on their business, and we expect this to remain the same for some time while negotiations continue. There are growing concerns that Brexit, the falling pound, and other cost pressures will push up the cost of products, and the way that manufacturers, importers, wholesalers and retailers of all sizes handle these costs is likely to be one of the hot topics for 2017.
There are also two significant changes on the regulatory horizon in 2017, in May with the introduction of plain packaging for tobacco products (which many retailers will already be seeing from their suppliers and wholesalers) and in April with the introduction of requirements for retailers as part of the Alcohol Wholesaler Registration Scheme. ACS will continue to provide detailed advice on compliance and best practice on these and other issues, and we encourage retailers to get in touch if there is anything they're unsure about.
On a more positive note, the contribution that convenience stores make to their communities is something that has really stood out again this year and this remains an important point of difference for the sector.
Some 84% of convenience stores in the UK are involved in their community in some form, with convenience stores also polling as the second most positive service on the high street (behind only post offices). This is great news, and a key aspect of convenience retailing which can often be overlooked."
Health policies will impact Scottish stores
Pete Cheema, chief executive, Scottish Grocers Federation
"The big lessons from 2016 are that there are always big shocks on the horizon, which are difficult to plan for and difficult to respond to. It's probably true that few of us thought that the EU referendum vote would be for Brexit and probably even fewer of us thought that Donald Trump would really win the US election. Most of the economic indicators in the UK remain positive but all this tells us is that there has been no adverse reaction to the Brexit vote. But nothing has actually happened yet and a hard Brexit will have a big impact on every industry sector in the UK.
Every year presents a combination of threats and opportunities; 2017 will be no different. We will undoubtedly have to be aware of the potential threats as the Scottish government looks to relaunch its strategies in the key areas of alcohol, obesity and tobacco control. These will definitely impact on the in-store retail environment and we are already looking at the most effective ways we can influence the development of these new policy initiatives. We will also see the implementation of new regulations on the sale of electronic cigarettes. These will have a big impact on retailers and we are already working on a compliance guide to ensure our members fully understand the changes and can continue to sell these products responsibly.
But for the first time ever we have a superb political opportunity to try to set the legislative and policy agenda. SGF has been the driving force behind the new Scottish Parliament Cross Party Group on Independent Convenience Stores – for the first time we now have a genuinely cross- industry platform within the Scottish Parliament which can directly inform and influence MSPs and Ministers. We need every-
one to get behind this and make it work.
In-store the big opportunities are probably in the food-to-go category and in how retailers use technology. We know from our Scottish Local Shop Report that only about 40% of c-stores have a food-to-go offering – this means that there is real potential for growth here. Only 51% of c-stores in Scotland have epos, only 46% offer contactless payments and only 25% have a Facebook page. Again these figures give some idea of the huge potential for growth in in-store technology. There must be scope for a new digital revolution in convenience stores. We will look at both food to go and technology in our events in 2017."
Tap into demand for 'small store' shopping
Mike Watkins, head of retailer and business insight, Nielsen
"One of the positive outcomes of 2016 has been the resilience of the convenience sector faced with deflation, a recovery in sales at some of the large supermarkets and continued momentum of discounters. Sales across the impulse channel may have declined by 1% this year (Nielsen Scantrack) but compared with the grocery multiples where sales have been flat at best, this is a solid performance in the context of a challenging trading environment.
However, retailers who adapted store layouts and ranges so they were able to meet the 'little and often' need of today's consumer have been the winners, and these changes to shopping behaviour will continue as they are due to lifestyle as much as demographic shifts.
As we look ahead to 2017, we expect another year of structural change in retailing and with this comes new opportunities for convenience retailers.
When the average spend on food and drink is less than £10 a visit at convenience stores compared with about £25 and falling at many superstores, marketing activity that encourages repeat visits is important to gaining the overall loyalty of spend from shoppers.
Modern convenience stores also have a flexible business model, and with good locations can have an advantage over superstores, many of which are in need of reinvention and significant investment at a time when online sales are cannibalising sales and there is a decline in store loyalty as shoppers defect to value retailers.
Next year consumers will face increases in prices for the first time in three years and retailers will have to absorb regulatory cost increases, such as further rises in the National Living Wage. Investing in technology will assist in streamlining the operations of the business and digital strategies will help efficiency, but a focus on range and choice will be the route to growth.
Nielsen expects shoppers using convenience stores to look for more price transparency and simpler promotions, but it will be the overall customer and store experience that will differentiate a store. To stay ahead of the pack, convenience retailers will have to think smart about value and offer products and services that are innovative, unique, special and maybe even exclusive to improve the distinctiveness of their offer.
With these foundations, the entrepreneurial spirit of local retailers will capitalise on the trend towards small store shopping and will attract new shoppers and drive incremental sales."
Get yourself connected to Generation C
Jill Livesey, managing director, HIM Research & Consulting
"Discretionary spend had reached its highest ever level in 2015, but following Brexit shoppers told us they were hoping for the best, but preparing for the worst; this feeling could heighten in 2017. We could see increased planning and budgeting, as shoppers are already preparing for food and drink prices to rise – 61% say they expect prices to get even higher. This is unlikely to mean shoppers will always look for 'cheapest prices', but make more of a conscious evaluation of whether a product, or experience, or convenience, justifies the price.
Despite a year of political and financial unrest, many of the longer-term shopper trends will continue to grow. We continue to see a gradual decline in UK populations doing a weekly main shop in supermarkets (now at circa one-in-two households), great news for UK convenience. The use of discounters and online grocery shopping is likely to continue to grow at a steady rate (now regularly used by 51% and 35% of the UK population) and shoppers will still be demanding an increasingly 'convenient' shopping experience.
We'll see the continued rise and rise of Generation C – a shopper base who is constantly connected and craves convenience – and technology-based solutions to meet their needs will continue to emerge.
Health will continue to be a key focus area for the industry, and shoppers will increasingly expect retailers and suppliers to help them make healthy choices.
Despite a likely blip in consumer confidence, we also predict a return to 'shopping with a conscience' as recent world and political events have increased levels of volunteering and charity work. This is likely to further drive the importance of ethics in shopping decisions, but also an increased need for trust and community – an area which convenience retail excels at.
But, ultimately, the future is a little unclear and shoppers are aware of that. There is likely to be a shift in priorities when it comes to shopping, with price becoming more important again for many. But previous periods of social and financial uncertainty have also seen shoppers turn to 'affordable luxuries' to cheer themselves up."
Innovate and invest to lure new shoppers
Debbie Robinson, managing director Spar UK
"2016 has been another challenging year in the convenience sector, but we can take a lot of positives from it which will help us going into 2017. It is imperative that we continue to adapt quickly to changes in the market and in particular to the needs of our customers.
The convenience market is currently changing more rapidly than it has done at any point in the past and we must be prepared to work smarter and move quicker if we are to continue to succeed.
We are yet to understand the full impact of certain external factors, such as Brexit, and what long-term effect this will have within the industry. However, there has definitely been a slowing of growth and some of this can be attributed to the Brexit vote.
Reducing costs has to be everyone's responsibility against the backdrop of increases to the living wage and raw material cost increases – some of which are as a result of the devaluation of the pound versus the US Dollar and the Euro.
If consumers have less money in their pockets, which many predict, then obviously spending habits will change. This should also be seen, however, as an opportunity for retailers to alter how they operate their businesses in response to customer requirements.
Innovation is at the heart of the convenience sector and we must always be looking at new ways to bring a better shopping experience to our stores. Shoppers want to see improvements in technology, foodservice, convenience and healthy options. Convenience stores must continue to innovate in these areas and invest in the future to attract more people in store. Understanding the needs of Millennials and Generation X and what they want from their shopping experience, whether that be increased foodservice or licensing for on trade, has become vital for our future growth.
At Spar we have been more successful than most in adapting to the changing landscape and engaging more with our customers. Our store numbers are up, as are sales and basket spend. We have worked hard to strip out unnecessary costs and pass that saving on. As long as we maintain this approach and willingness to change quickly and efficiently then we should be able to address any fresh challenges in the market head-on.
2017 will be another challenging year, but one we look forward to. We are committed to our More Together strategy and ultimately our aim is to help our retail partners develop profitable businesses."
Prepare for new tobacco legislation
Steve Fox, managing director retail, Booker Group
"The outlook remains challenging, however I am confident that Booker can help our customers prosper. Since 'joining forces' with Booker Retail Partners, we have been working hard to deliver some real benefits for all of our retail customers.
In terms of regulations, the biggest impact on retailers next year will be EUTPD. Retailers need to consider what range they are going to carry, what they are going to charge, where they will store the product and what they can do with the additional space created.
Retailers have faced many challenges recently with the National Living Wage, auto enrolment and the changes to tobacco legislation. These are some of the reasons why we will be focused on helping our 
customers 'make more and save more'. With regards to Brexit, it is business as usual for us. We are putting our energy into improving choice, prices and service to our customers. Technology, convenience and discount are all areas that are set to continue to grow, and Booker will be able to help our customers capture this opportunity.
Londis and Budgens have benefited from the launch of Farm Fresh and Euro Shopper and also lower operating costs. We are currently operating a fresh food trial that will lead to some fantastic improvements for our Premier and Family Shopper estates in 2017.
We will be looking at many ways to help our customers make more and save more."
Refine your range for your shoppers' needs
Kash Khera, managing director, Simply Fresh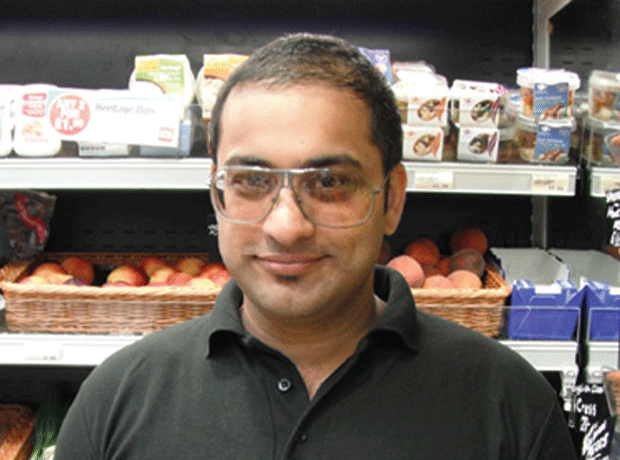 "A rapid rise in the quality of convenience stores, ever-improving standards in online and store opening programmes by discounters have given shoppers alternatives to supermarkets. That said, there is still considerable opportunity for experimentation: both larger and smaller convenience stores can adapt to meet food-for-now and food-for-later missions, especially if they're in a suitable location – for example, close to transport links.
In 2017 retailers will need to make sure they understand how to engage shoppers according to their context and specific needs, and at the same time the physical store will continue to change as retailers adapt their services to this new way of interacting with customers.
Technology will also play a huge part in how we shop, with online and click and collect. The SimplyFresh app has supported retailers with in-store offers and promotions in 2016, and in 2017 this app will develop new features to support consumer needs.
Social media has been playing a big role in the shopping journey for a while now, and it will continue to do so in 2017 and beyond. An increasing number of retailers are learning that having more products won't necessarily win over customers. Shoppers these days are already overwhelmed with too many choices, so widening your range can sometimes do more harm than good.
In terms of regulations, the changes in tobacco legislation will have a huge impact on the convenience sector so it's crucial retailers understand what the changes are so that they are able to inform customers.
It is difficult for retailers to make concrete business plans until there is clear vision on how the government intends to tackle the issues around the exit from the EU. There is little retailers can do apart from consider every eventuality. But one thing for sure is that we can expect to see an increase in food prices in 2017 due to Brexit. Furthermore, with employment costs going up, people need to look at profitability of stores and not focus on declining categories."
Introduce self-service and new sales channels
Paul Stone, owner of seven Spar stores around Greater Manchester
"This year has been a tough one for sales and I expect 2017 to be even more challenging. We are working very hard and promoting a lot of products to generate sales as competition continues to open around us.
The full impact of plain packaging of cigarettes and in particular the loss of 10-packs is yet to be felt by the sector, and the resulting decline in shopper frequency will hurt many small stores. This, combined with political uncertainty and another 30p per hour increase in the National Living Wage in April, makes me far from optimistic about 2017.
Having said all that, as small business owners we must have a plan and a response to all these challenges. Within my business we are installing four lanes of self-service, card-only tills in three stores next year as cash becomes less and less popular with our younger customers. This will allow us to reduce staff numbers, save wage costs and improve customer throughput in our busiest stores.
We are also teaming up with Deliveroo to supply and deliver alcohol from four stores, in order to explore new sales channels and harness the power of the smart phone.
Our sales plan is to focus on seasonal events and the key categories that are in growth such as fresh, food to go and coffee, and use them to replace some of those lost customer visits by breaking in to the food-service market and changing the way customers perceive our stores.
For me, the key trends to watch in 2017 are: locally-sourced products; craft ales; Free From and added protein. Our younger customers will not just accept the same old big brands on shelf, they want to see interesting products in quirky stores that are good for them and fit in with their busy lives.
If 2016 has taught us anything it is that teaming up with a local butcher is good for your fresh meat sales and helps to crack 'Tonight's Tea' as a shopper mission. What we have also learnt is that the right fresh produce line at the right price will really, really fly off the shelves. 50p pineapples anyone?"
Focus on e-cigs and electronic loyalty schemes
David Knight, owner of Budgens Hassocks and Henfield, 
West Sussex
"There is an awful amount of uncertainty across so much of the country, which inevitably filters down to consumer spending. The economic predictions are varied, but from all accounts people's shopping habits are likely to continue to move towards more convenience-led trips, which is largely a positive for us c-store retailers. We face significant legislative challenges, largely around tobacco and, longer term, the sugar tax. While my business is less sensitive to the tobacco changes coming into force next year, it will affect turnover. We have already made the decision to delist a number of products from the range to get us into line for 2017 and have identified e-cigarette and vape products as our new priority for the category. We are introducing 'vape' stations into our kiosks to try to drive new sales and extend reasons for customers to visit.
What is more concerning is the sugar tax, due in 2018, largely because there is so much uncertainty around what it actually means and where it is going. There is a danger that the drinks tax could be the opening gambit for new taxes across many of the products that form a core body of sales across our stores. We have already removed space allocated to confectionery over to health and lifestyle snacking products at our till points and plan to remerchandise our drinks chillers to extend facings of zero-sugar variants.
I think the trend for fresh and healthy foods, particularly functional foods, will grow, while Free From products are now becoming a lifestyle choice. Food-to-go sales will continue to grow, but only if stores have the right offer.
Consumers will continue to expect more and more from their convenience stores. Contactless payments, Apple Pay, online presence, electronic loyalty schemes are all projects we will launch in 2017 to keep pace with customers' demands for us to be more professional."