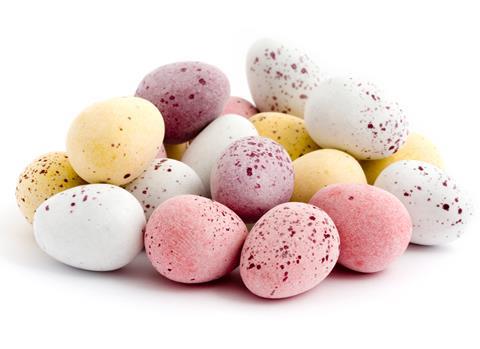 Retailers are struggling to get their hands on 80g bags of Cadbury Mini Eggs in the run-up to Easter.
Budgens owner Goran Raven told ConvenienceStore.co.uk he was frustrated at not being able to stock the best-selling Easter treat. "My biggest bugbear is that we haven't been able to get mini eggs since February," said Goran, who is based in Abridge, Essex. "Booker doesn't have them. They occasionally appear on their website and we order them, but we don't get them. I spoke to 15 different retailers at a trade show and none of them have had Mini Eggs for several weeks. We got the hods in just after Christmas. They sold out and we've not been able to replace them. The Mini Egg bars and shell eggs are all over the place, but the 80g bags, you can't find them."
Middlesbrough retailer, Sag Hussain, who owns Premier Norton and The Avenue Convenience Store hasn't been able to source any either. "Mini eggs is a big issue," he said. "There haven't been any for weeks."
Amrit Pahal of H & Jodie's Nisa High Heath in Walsall hasn't had any luck sourcing the elusive treats. "We had an issue with Mini Eggs," he said. "We had a few on a presale. I've been to a few wholesalers and there aren't any."
It was a similar story for Aman Uppal of One Stop Mount Nod in Coventry. "We haven't seen Mini Eggs or Creme Eggs for a couple of weeks now and I'm on my last couple of cases," he said. "I'm substituting that space for shell eggs."
In Northern Ireland, Ballymena-based Eugene Diamond confirmed that availability was non existent at his local cash and carries. "There's a shortage of all things Easter - Mini Eggs and Creme Eggs," he said. "I've been to a couple of wholesalers and it's long gone. I have the stock, so I'm fine. But if you want extra stock, the only place you'll find it is the likes of the big supermarkets."
Spencer Court News store manager Sarah Darlow Stearn claimed many Cadbury Easter impulse lines were hard to come by. "All of the Cadbury products - Creme Eggs, Caramel Eggs, Mini Eggs - all that stock has been dead for weeks," said the Corby-based Best-one retailer. She explained that she had had plenty of stock earlier in the season: "From my Cadbury rep direct I got 10 boxes of Creme Eggs, two boxes of Caramel Eggs and three cases of Mini Eggs back in February and since then we had a re-stock with Bestway because we did a pre-order and we've had a re-stock from Booker." Though she could no longer order the products, Sarah wasn't overly concerned. "It's not like I'm not going to lose sales because I haven't got Creme Eggs or Mini Eggs, we're at this stage in the game where I still have Easter eggs on shelf so if people want to provide Easter eggs and such, they'll still buy other products."
Despite many retailers being unable to find the product, manufacturer Mondelez International insisted that there was no shortage. "Cadbury Mini Eggs plays a key role in the seasonal occasion, as one of the nation's favourite Easter brands," said the firm. "We're pleased to confirm that there are no production challenges or shortages of Cadbury Mini Eggs at present".
Bestway Wholesale claimed that the product was in stock, but moving fast. "Bestway does have stock of Cadbury Mini-eggs, but it is moving quickly with Easter just around the corner," said a spokesman. "We have taken a look at our stock from November 2021 onwards and cannot see anything that points to a supplier shortage.
"However, we have noticed that sales have jumped in the past four months, which may explain why some wholesalers have no stock available. Preparation is so important for key calendar events and our advice for all seasonal occasions is to secure stock well in advance to avoid missing out."