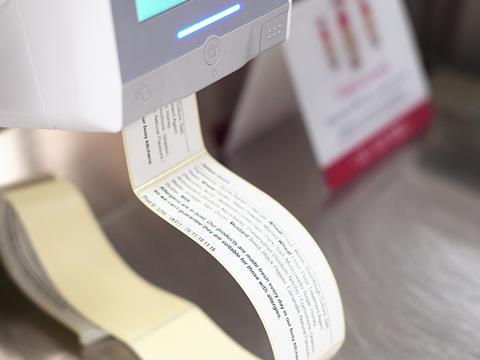 Concern has been expressed over the level of preparedness for the impending Natasha's Law legislation.
According to research carried out by GS1 UK, eight in ten food business owners admitted they felt unprepared for the new food regulations coming into effect, despite 90% saying they have received plenty of information about the new law.  
Under the new legislation, which comes into effect on 1 October, all food businesses are required to provide full ingredient lists and allergen information on foods pre-packaged for direct sale in England, Wales, Scotland and Northern Ireland.
The research, which covers food manufacturers, wholesalers, grab and go retailers, found that 80% of chains and franchise welcome more definitive and explanatory packaging whereas this figure was less than half amongst small independent businesses (39%).  
READ MORE
Furthermore, one fifth of small independent businesses feel the new legislation is coming in too soon and does not leave enough time to adapt, whereas just 2% of food chains and franchises held this view.  
The research also found that only 39% are providing training on types of allergens and more than one in five say that they are awaiting further training and guidance.
Henry Dimbleby MBE, author of the National Food Strategy said the level of awareness was "worrying but not surprising".
"Natasha's Law represents a hugely positive, yet complex transformation for the food sector - one fraught with risk. It is worrying that the awareness of the changes is inconsistent, but not particularly surprising after everything the sector has had thrown at it over the last 18 months. It's therefore fantastic to see a data solution that will help companies, particularly smaller companies, make the required changes while reducing both bureaucracy and the opportunities for error." 
Digital approach
The findings have led to GS1 UK suggesting a digital approach to the supply chain to ensure the correct information is displayed on products.
CEO of GS1 UK Anne Godfrey said: "We believe that 2D barcodes – like a QR code or DataMatrix – should be used on a product's packaging, no matter what type of product it is. These barcodes can hold significantly more information about a product and can also link to additional data sources which either a supplier or consumer can access through a quick scan. By having a set of global standards product information can be shared in a standardised way in real-time, making it an easier process than the current back-and-forth over email and phone between supplier, wholesalers and sellers – a certain recipe for misinformation and confusion.  
"To achieve this, GS1 standards must be used to ensure information can be accurately collected in a way that will ensure interoperability between a myriad of systems and technology platforms. " 
Chris Tyas OBE, chair of GS1 UK and former acting director of Food Supply and chair Food Resilience Industry Forum added: "One of the biggest concerns surrounding Natasha's law is whether businesses will be able to quickly and accurately get up to date allergen information – especially smaller businesses whose ingredients may change daily. Yet the research shows that these small businesses are the least prepared. 
"It is vital that the whole food supply chain has the ability to capture and access the full range of allergen data to implement the requirements of Natasha's law. To comply successfully we believe the continued digitalisation of the supply chain is much needed.  A recommendation that is also at the heart of the recently released National Food Strategy."