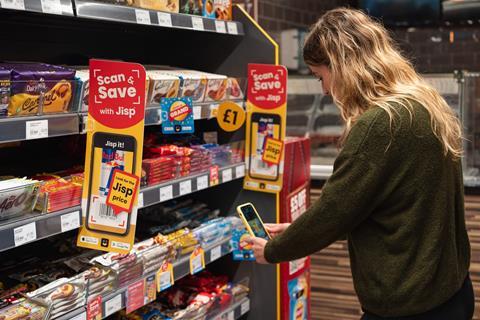 Nisa is to double the number of stores participating in its Jisp Scan & Save rollout.
Bringing the total number of stores involved to 25, the expansion follows an eight-week pilot, with nearly 400 customers making over 12,700 scans, 5,800 taps and 3,300 redemptions on 65 branded products.
In addition to the extra stores, Jisp is now almost tripling its offers via Augmented Reality (AR) vouchers – more than 150 products will be Jisp-enabled in stores from well-known brands such as Hovis, Molson Coors, AB InBev, Kellogg's, Britvic and FrieslandCampina.
Jisp's research into vouchers found that Scan & Save generates higher interest and usage of digital vouchers from male shoppers at 47% - almost 30% higher than the UK's average. The redemption rate is also much higher at 57% compared to the average national statistic of 13.7%.
Jisp has been looking to boost customer engagement by launching 'Scan a Grand' competition where a shopper can scan a participating product barcode to be in with a chance to win £1000. So far four winners have been selected, with the company extending the competition to reward further six lucky winners. Jisp has also launched another Cadbury hamper competition with Mondelez, where any Cadbury Nuttier bar scan can grant a big box of chocolate goodies delivered to a customer's house.
CEO of Jisp Julian Fisher said: "What a fantastic achievement for everyone involved to see positive results in such a short amount of time. I believe I speak for all our partners when I say that the stats have been overwhelming and well above expectations. We see that people are not only adopting this new way of shopping quickly but are also coming back for more deals, which boosts loyalty and brings additional sales for brands and retailers."
Head of central operations at Nisa James Taylor added: "The response to the Scan & Save initiative has been absolutely brilliant and it's great that we've been able to increase the number of Nisa partners getting involved in the service. Scan and Save is an excellent way of improving engagement with shoppers which is so important to the local, independent retailers we work with."