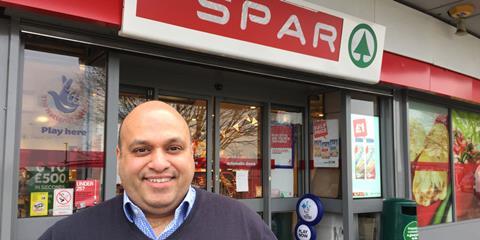 The convenience store sector has joined forces to celebrate Raj Aggarwal a year on from his passing.
Raj, who owned Spar stores in Wigston and Hackenthorpe, died after contracting Covid-19 in April 2020. One of his final social media posts was a picture of him donating food to NHS workers at his local hospital.
Raj's family, led by Sunita, have set out the goal of raising £100,000 for Leicester Hospitals Charity and Sheffield Hospitals Charity. The initiative, #DoAsRajWouldDo, ran from 19-26 April and galvanised the entire sector.
The appeal has already raised more than £24,000 as well as donations from suppliers and retailers.
Retailers from around the UK took to social media to highlight #DoAsRajWouldDo.
We are supporting #doasrajwoulddo @BatleyFoodBank @Batley_News @TracyBrabin @VisitBatley @batley pic.twitter.com/77sf3e4fT6

— surjeet Singh notay (@notays) April 15, 2021
@RajAgga20516656 still inspiring us a year on!! 🙏🏽🙏🏽🙏🏽 miss you dearly brother #doasRajwoulddo https://t.co/3Ezxf5Hyqs pic.twitter.com/AOWJybleAQ

— Atul Sodha (@AtulSodha) April 22, 2021
All week we're celebrating the much-loved late retailer Raj Aggarwal with our #SPARdoasRAJwoulddo campaign. If you're a retailer, please join in by donating to your community and using the hashtag. Read more: https://t.co/s8pHIWINDu #community #givingback #doasRAJwoulddo pic.twitter.com/YIIVjb8Omd

— A.F. Blakemore & Son (@AF_Blakemore) April 19, 2021
Suppliers have also supported the initiative by donating product.
Thanks to Lawrence from @SuntoryBF_GBI who brought us 10 cases of Lucozade Energy, in support of #doasRajwoulddo 😀 pic.twitter.com/DWPHoEYNBB

— SouthLivFoodbank (@S_Liv_Foodbank) April 21, 2021
We'd like to say a BIG thank you to @weetabix for supplying these bottles of chocolate breakfast drinks for NHS staff, as part of the #doasRajwoulddo appeal! pic.twitter.com/dacPjRDyso

— Sheffield Hospitals Charity (@SHCFundraising) April 21, 2021
RETAILERS: Send us a photo of your Boost stock!

For every photo/tweet we receive showing Boost, we'll add an EXTRA £10 to our donation!

We're delighted to be supporting #doasRajwoulddo in memory of Raj Aggarwal. You too can donate and find out more here:https://t.co/FwckVEm9IJ pic.twitter.com/y2X3bCMtZA

— Boost Drinks Trade (@BoostDrinksNews) April 22, 2021
This week we have donated personal care and household products locally in memory of SPAR owner Raj Aggarwal who sadly passed away from Covid-19 last year.

We are proud to have donated 53 pallets to charity since the start of the pandemic #doasRAJwoulddo pic.twitter.com/shfRxnqWMG

— DCS Group UK (@dcsgroupuk) April 22, 2021