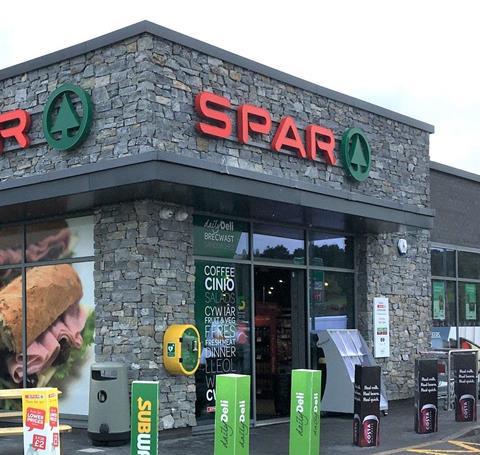 Spar is to invest £125m over the next year in its stores, supply chain and IT.
Speaking at Spar UK virtual conference, managing director Louise Hoste explained the investment.
"Last year was a year which saw accelerated growth as a result of the dedication and focus of our colleagues. Therefore we are going to support them by investing £125 million in our business in the year ahead.
"We will invest £100 million in stores and we will invest £25 million in improving our supply chain and IT capability – everything from depots to vans and electric bikes for home delivery. The potential is huge," she said. "Collectively we adapted and it has made us better and stronger."
Spar reported sales of +8.5% year-over-year-over-year (YOYOY to 4 weeks ended 28 March 2021. It reported sales growth had been achieved from bigger baskets (+31%) and changes in the mix and pack sizes.
Hoste praised retailers for their efforts since the start of the pandemic. "Our independent retailers, store and wholesale colleagues are our real heroes of the last 12 months. They were consistently there for our customers.
"Our entire network worked extremely hard to navigate the way through the pandemic and as a result of hard work and dedication; we were able to supply stores with exceptional service in order to provide colleagues and consumers with a safe place to work and shop."
New format
Spar also provided details on its new formats and propositions starting with the major redevelopment at Carnon Downs in Cornwall. The 2,600sq ft store is the first in the country to trial the new SPAR UK store design concept.
Featured on ConvenienceStore.co.uk earlier this month, the state-of-the-art next generation store will include a strong focus on provenance.
"It is encouraging to see how consumers continue to use our stores today. We see our future in local as consumers choose to shop locally in stores owned by independent retailers. Our heritage, both nationally and internationally, is rooted in the local communities we serve.
"Our core strength is in our store locations, our independence and the entrepreneurial spirit of our retailers."
Spar expansion
The symbol group also completed 300 new stores and refits over the year.
Hoste added: "This is our seventh year of continuous growth and a strong platform to demonstrate how our strategy delivers sustainable growth. Spar is the leading convenience symbol group in the UK and the only proposition for independent retailers looking for a profitable future.
"Spar has shown great resilience with developments in retail, own label and across our supply chain. We have proven how adaptable we are. We look to benefit from our scale, whilst adding value to the local communities we serve. The future in convenience is with Spar."