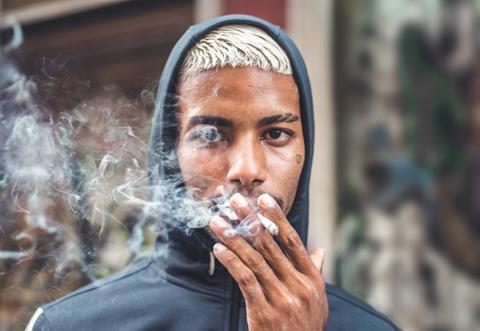 Measures including increasing the age of sale from 18, by one year, every year until no one can buy a tobacco product in this country, introducing a tobacco licence system for retailers and raising tobacco duty by at least 30% have been recommended to the government in a bid to reduce the number of people smoking in England.
The report, Making smoking obsolete, was compiled by Dr Javed Khan OBE at the request of the government as part of its plan to make England smokefree by 2030.
Khan recommended increasing the age of sale of tobacco from 18, by one year, every year, until no one can buy a tobacco product in this country to create a "smokefree generation".
He also puts forward the suggestion of immediately raising the cost of tobacco duties, by more than 30%, across all tobacco products. This includes increasing duty rates for cheaper tobacco products, such as hand rolled tobacco, so they are the same as standard cigarette packages as well as banning tobacco products at duty-free entry points.
One recommendation that would have an impact on store owners is the proposed introduction of a tobacco licence for retailers to limit where tobacco is available. The report suggests that the government should also ban online sales for all tobacco products, ban supermarkets from selling tobacco and freeze the tobacco market to stimulate innovation in tobacco-free alternatives.
The report also recommended that an £125m per year is invested in smokefree 2030 policies, including an extra £70m per year in stop smoking services; the government "embrace the promotion" of vaping as a tool to stop people smoking and help the NHS provide more support to people looking to quit.
In the report's summary, Khan warned that without these additional measures, England is set to miss its target of being smokefree by 2030 (with only 5% of the population smoking) by at least seven years.
Association of Convenience Stores chief executive James Lowman said the suggestion to continually increase the legal age to buy tobacco products as "very challenging for retailers.
"Increasing the legal age of sale by one year every year would disrupt the very effective measures put in place to enforce an age restriction at 18, which applies not just for tobacco but to many of the products local shops sell," he said. "We need to look at how this would work in practice, but it looks like it would be operationally very challenging for small shops. Underage smokers aren't buying tobacco from shops, who have an excellent record of implementing the Challenge25 policy, but from friends, family and the black market."
Commenting on the other recommendations, Lowman said: "The proposals for licensing tobacco retailers need to be fleshed out, with clarity over what this measure would be trying to achieve. Licensing restrictions that stop new entrants from entering the market damage investment and the provision of all the products and services we sell. Ultimately, those who are selling tobacco illegally now without being caught would just continue to do so without seeking a licence."
Director general of the UK Vaping Industry Association, John Dunne, welcomed the proposals. "As an association we couldn't agree more with this report's stark message for the government which is that, without immediate action, it will miss its smoke free targets by seven years," said Dunne. "The NHS tells us that around 78,000 people in the UK die every year from smoking, with many more living with debilitating smoking-related illnesses, so the time for inaction is over.
"Mr Khan unambiguously states that one of the critical ways the Government can get its ambitions for a smoke free society back on track is through greater promotion of vaping and the UKVIA, which represents vaping organisations including retailers, manufacturers and distributors, will do everything we can to support this."
Simon Clark, director of the smokers' group Forest, labelled the proposals as "creeping prohibition that won't stop young adults smoking".
"It will simply drive the sale of tobacco underground and consumers will buy cigarettes on the black market where no-one pays tax and products are completely unregulated," said Clark. "A tobacco levy won't hurt the tobacco companies because it will be passed on to the consumer, disproportionately affecting those from poorer backgrounds.
"Encouraging smokers to switch to reduced risk products such as e-cigarettes is sensible as long as it is voluntary and based on educating consumers about the relative risks of different nicotine products. "Ultimately this is about freedom of choice and personal responsibility and ministers must think very carefully before they adopt prohibition and coercion as tools to achieve their smoke-free goal."
Illicit tobacco
The threat of illicit tobacco was also raised in the report. It suggested providing additional funding of £15 million per year to local trading standards and to give trading standards the power to close down retailers known to be selling illicit tobacco while alternative tobacco products such as shisha need enhanced enforcement.
This proposal was welcomed by James Lowman. "The proposed additional funding for local authorities to enforce against those selling illicit tobacco products is welcome, and is something that we've highlighted as a necessary priority for Government for a long time, but we need to see this implemented and we need more than £15m investment to close the £2.3bn tax gap caused by illegal tobacco sales. Unless we tackle the black market, the recommendations to further regulate the sale of tobacco through legitimate businesses will not be effective."