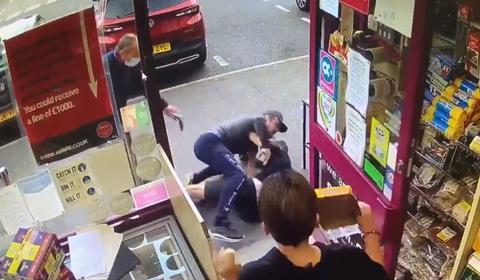 The penalties for attacks against shop workers have been slammed by store manager Anita Nye of Premier Eldred Drive in Orpington, Kent.
Anita's husband was attacked last September while working in the store and five months later, the the perpetrator received a 12-month suspended sentence and a fine of £160 while her husband received £100 compensation.
Speaking to ConvenienceStore.co.uk, a furious Anita explained that the attacker had initially plead not guilty and then changed their verdict the day before trial. She added that the person in question has been banned from the store but unfortunately lives close-by.
The store had already experienced several attacks leading to the deployment of body cameras for staff. Anita has previously expressed concern about the number of attacks leading her to question the effort her and the team put into the community.
this is the clip of my husband's attack. It went to court last week and the bloke got 12 months suspended sentence £160 fine & £100 compo for my husband 🤦🏻‍♀️ pic.twitter.com/Amuvel8y5O

— Anita Nye (@anita_nye) March 1, 2021
In February, Minister for Small Business, Consumers and Labour Markets Paul Scully highlighted the level of abuse and violence shopworkers have experienced over the past year in a letter to Association of Convenience Stores chief executive James Lowman.
According to the ACS Crime Report 2020, 83% of people who work in the convenience sector have been subjected to verbal abuse over the last year and there were over 50,000 incidents of violence estimated in the sector, with 25% of incidents resulting in injury.
The subject of penalties for attacks against shopworkers has been raging for some time. An Assaults on Retail Workers Bill is currently awaiting a second reading in Parliament, which would make offences against people working in shops aggravated for the purposes of sentencing. More details on the Bill are available here: https://services.parliament.uk/bills/2019-21/assaultsonretailworkersoffences.html
The Scottish Parliament recently passed legislation to introduce specific offences for crimes against shopworkers. The Protection of Workers (Retail and Age-restricted Goods and Services) (Scotland) Bill is currently waiting Royal Assent.