The heroic team behind Eldred Drive Stores (Premier) in Orpington, Kent, are still "reeling" after a special visit from the local Mayor and councillors to thank them for their incredible community efforts during the coronavirus outbreak.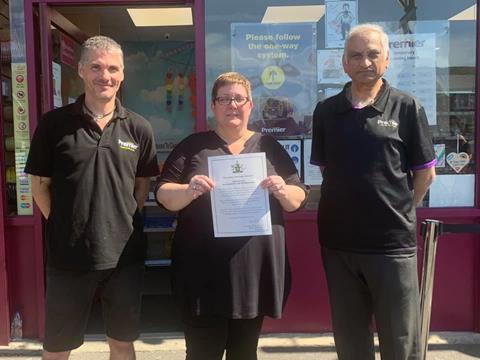 Mayor of Bromley Hannah Gray also presented the team with a Certificate of Gratitude and Appreciation which read: "Your selflessness in putting yourselves at risk of infection to maintain the essential services is greatly appreciated.
"Long after this emergency is over we hope you will look back with pride and satisfaction on your part in maintaining the vital fabric of society."
Store manager Anita Nye said she and the team were "chuffed" by the award and the outpouring of congratulations and praise from the local community.
"Things may have settled somewhat but these are still incredibly tough times so positive things like this provide a huge and much-needed lift," Anita told C-Store.
The store, which is owned by independent retailer Raju Patel, has been generously donating large amounts of food and drink to a local 'pop up' shop for NHS staff since the start of the lockdown period.
Goods are donated daily and the team at Eldred Drive carry out frequent stock checks at the pop up shop to see what items are most needed.
"We donate all kinds of things from cooked meats to fresh sausages, eggs, vegetables and of course toilet roll," Anita said.
"Snacks are also a big one and we always donate lots of soft drinks as the NHS staff certainly need as much energy as they can get and the drinks are always popular."
"A few days ago, volunteers at the pop up shop told us that there was a real shortage of icing sugar so we managed to get them three catering-sized bags. We donated those along with lots of small food bags so they could portion it up themselves," she added.
The team have since been "flooded" with messages of support and thanks from their local community.
Posting on their facebook page one customer said: "So totally deserved Raju and staff, you've kept our community going and still are . Thank you each and everyone of you."
Another said: "Very well deserved! You've been looking out for the community since I was a kid and prob before then too. Thanks for all you do."